CHUCK CONNELLY
POETIC NIHILIST
March 1 – June 25, 2021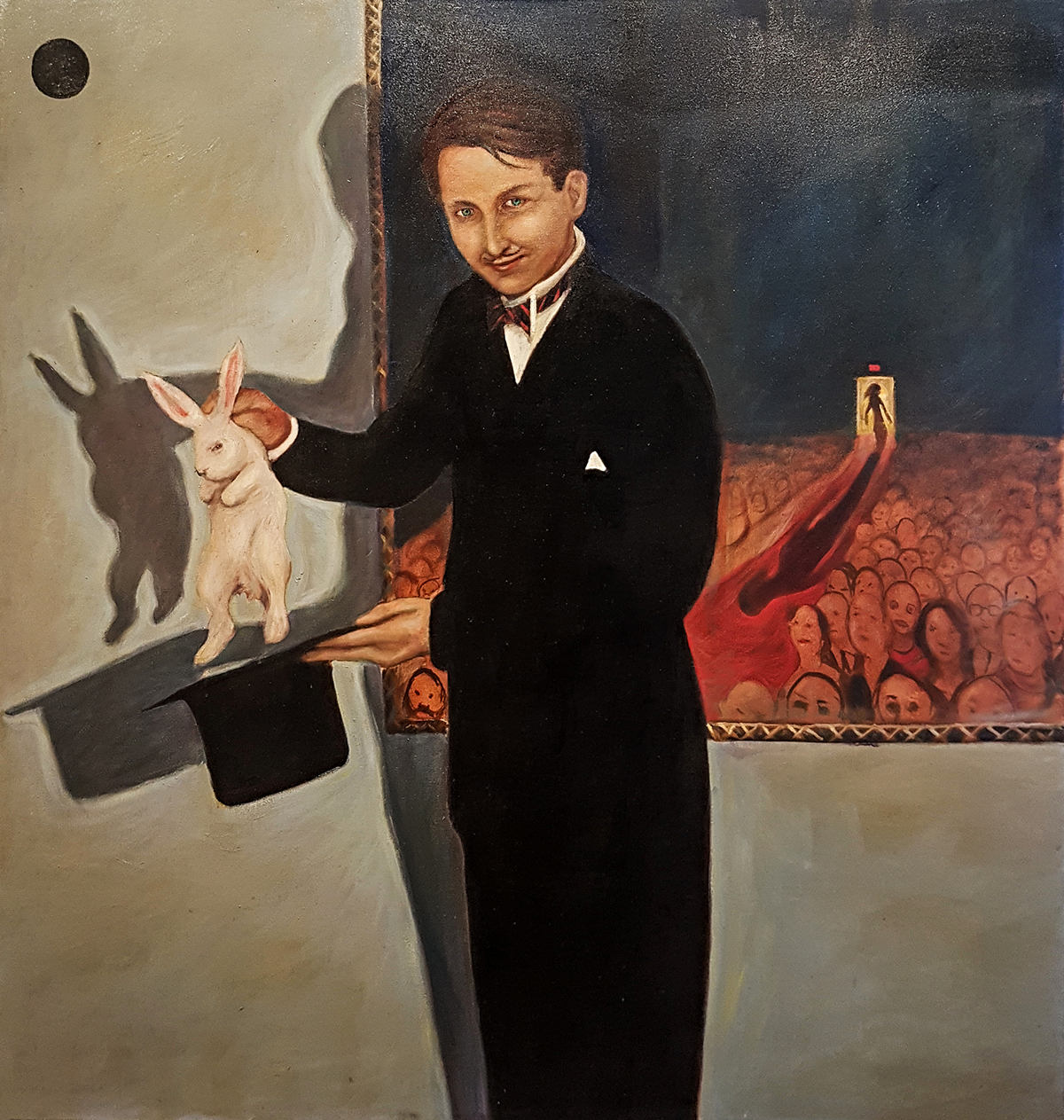 The Magician, 1980, oil on canvas
59 5/8 x 56 1/2 in., 151.5 x 143.5 cm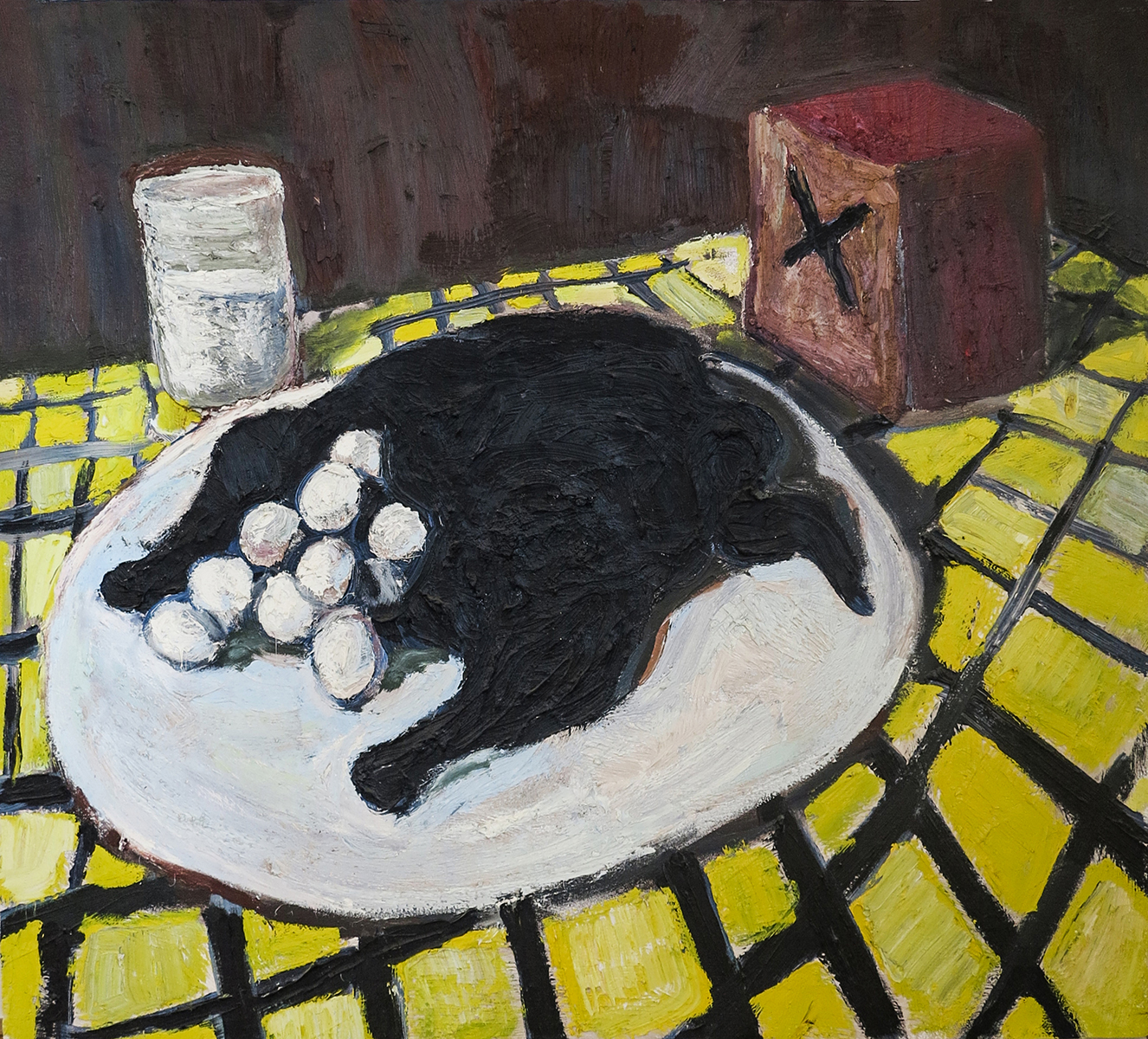 Still Life, 1983, oil on canvas
36 x 40 in., 91.5 x 101.5 cm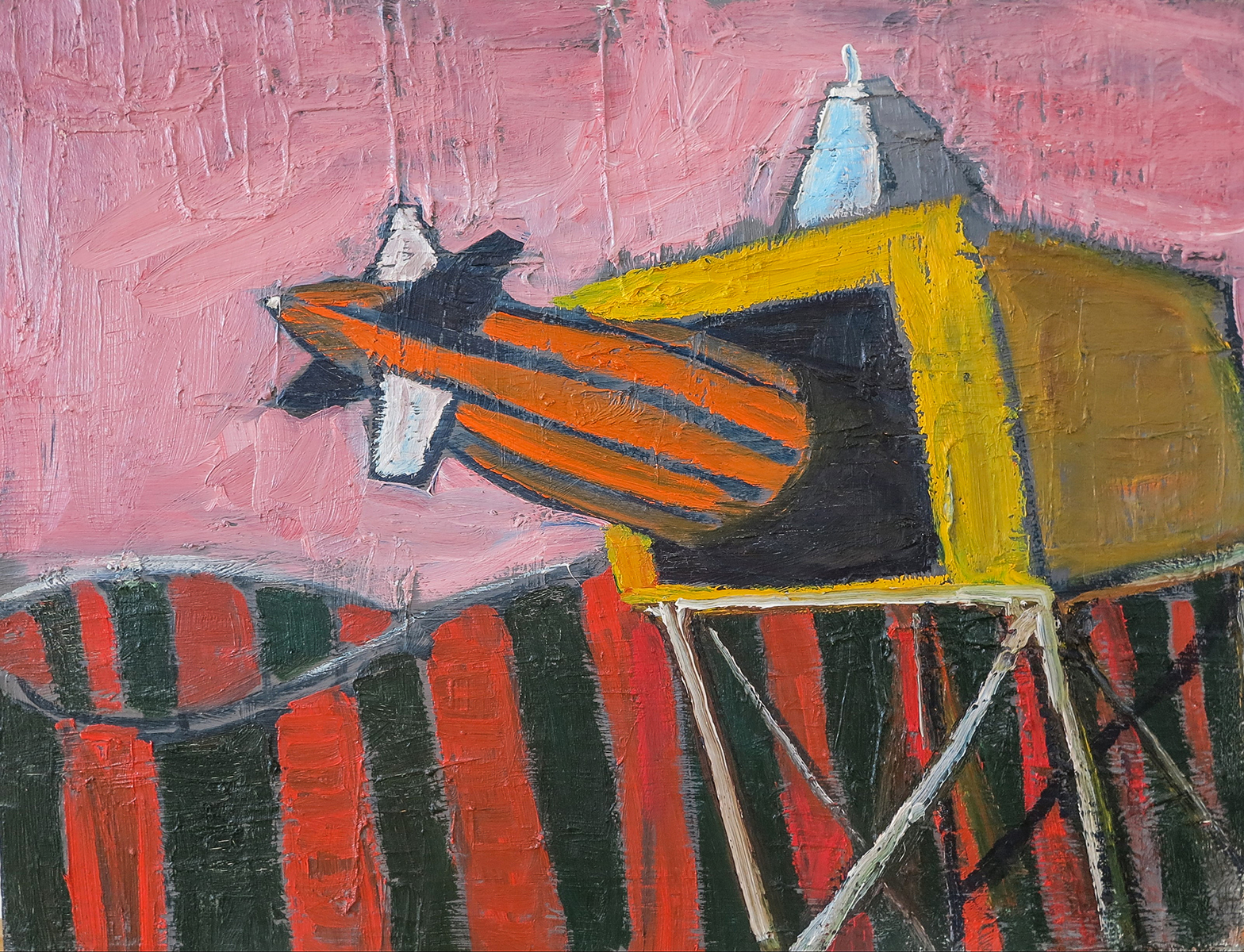 Blimp in a Box, 1984, oil on canvas
29 7/8 x 40 in., 76 x 101.5 cm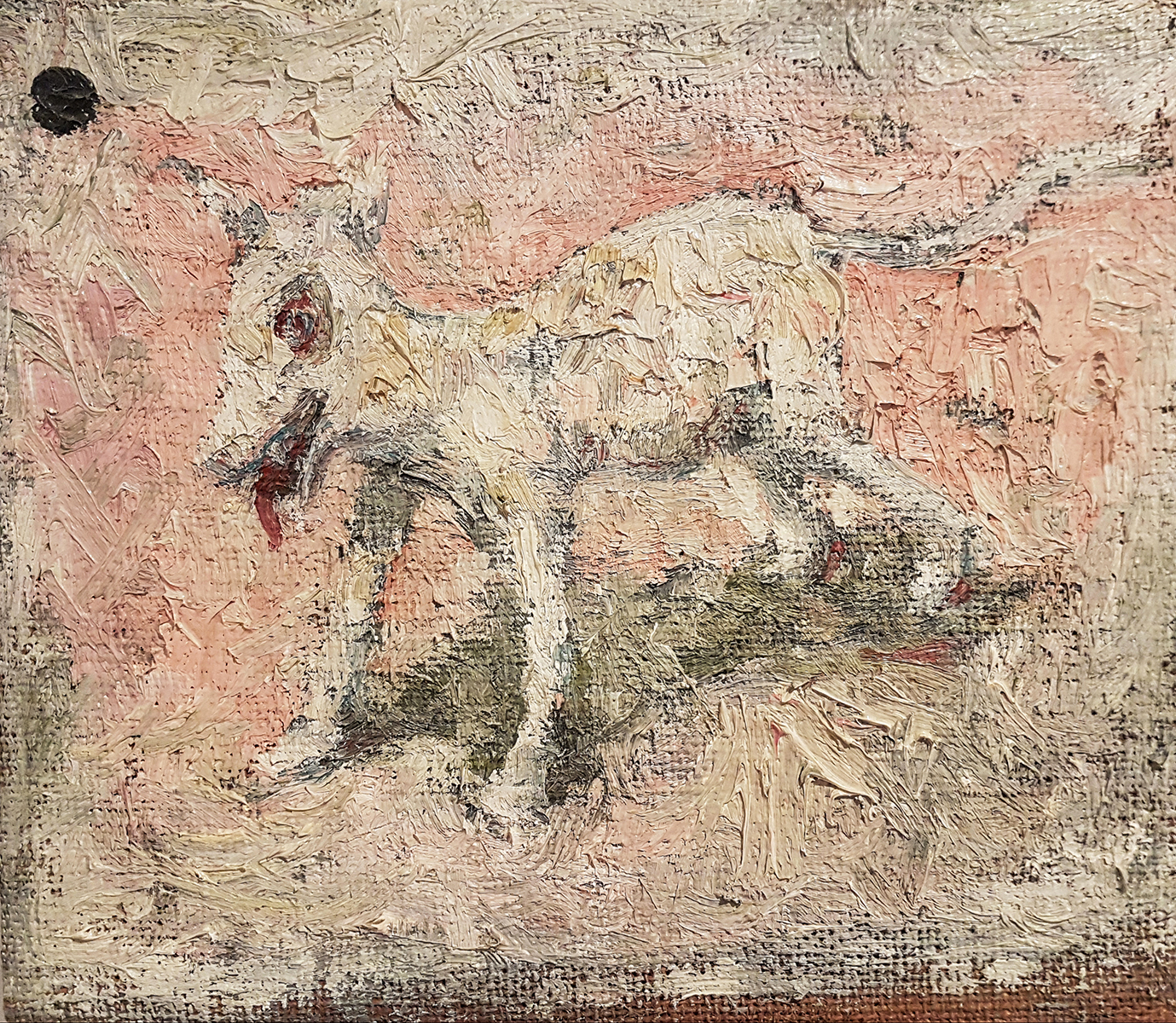 Dog, 1982, oil on burlap
10 3/8 x 12 in., 26.5 x 30.5 cm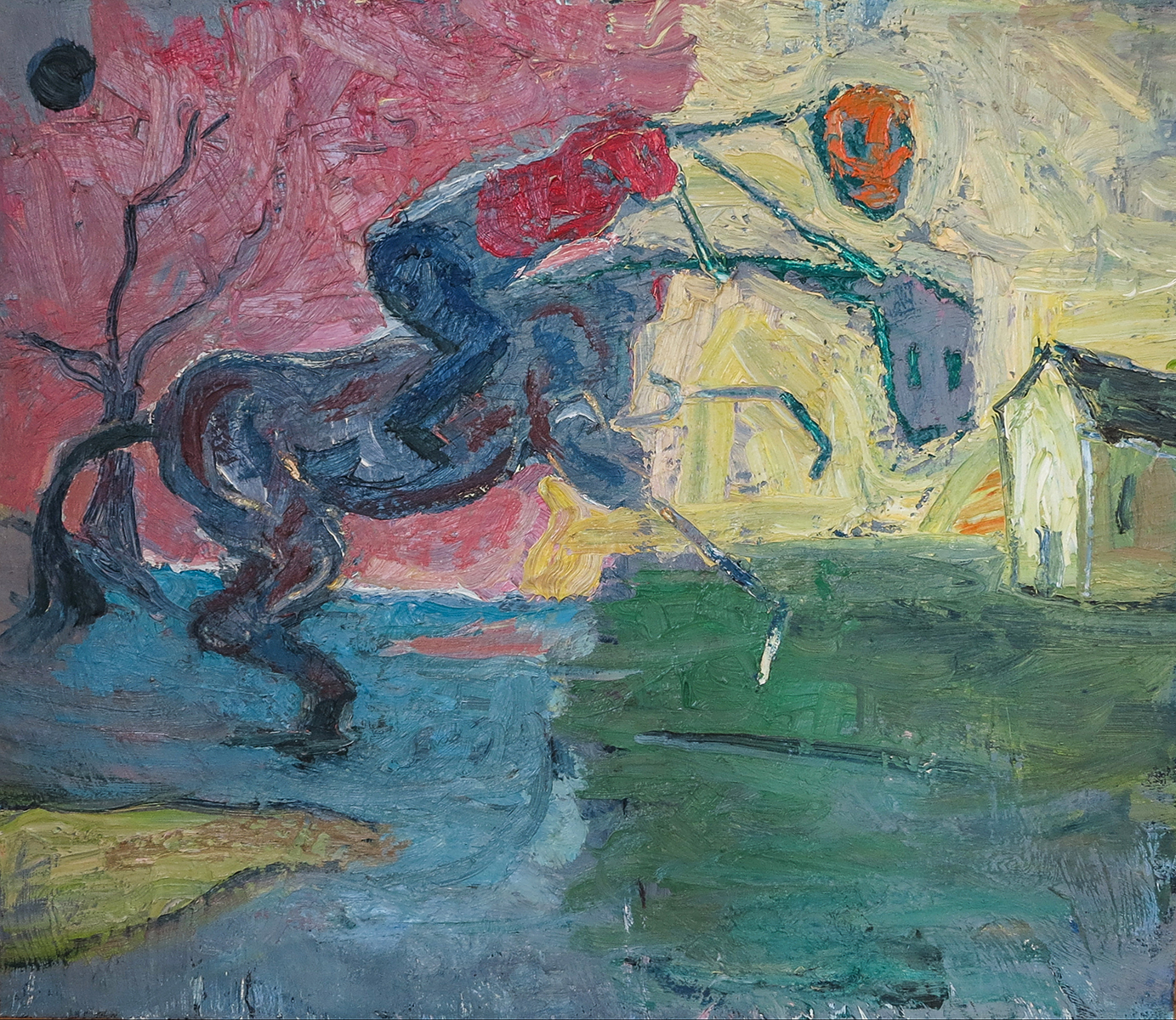 Dusk and Dawn, 1982, oil on cotton
23 5/8 x 27 1/2 in., 60 x 70 cm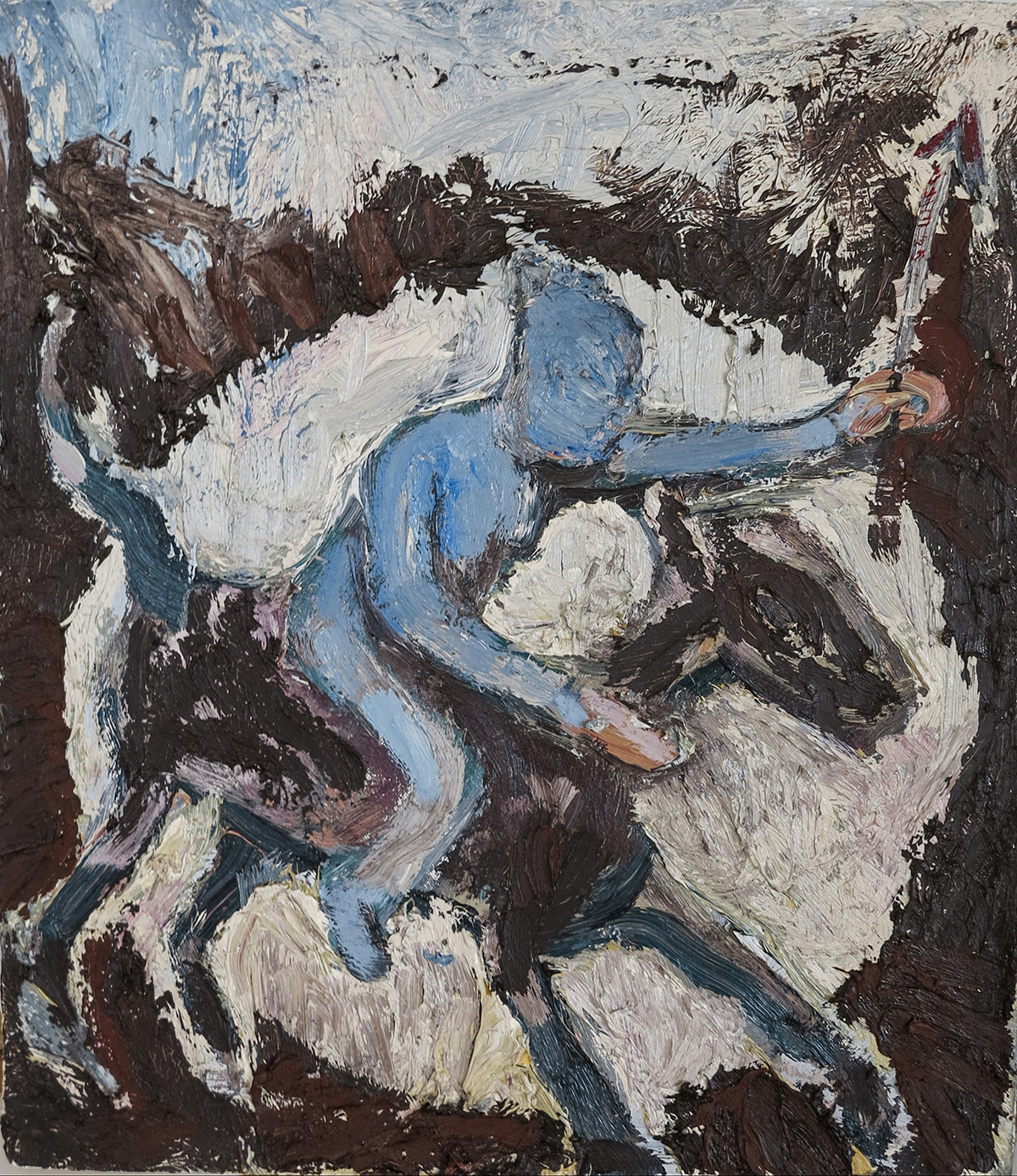 Dark Rider, 1983, oil on canvas
18 1/8 x 16 1/8 in., 46 x 41 cm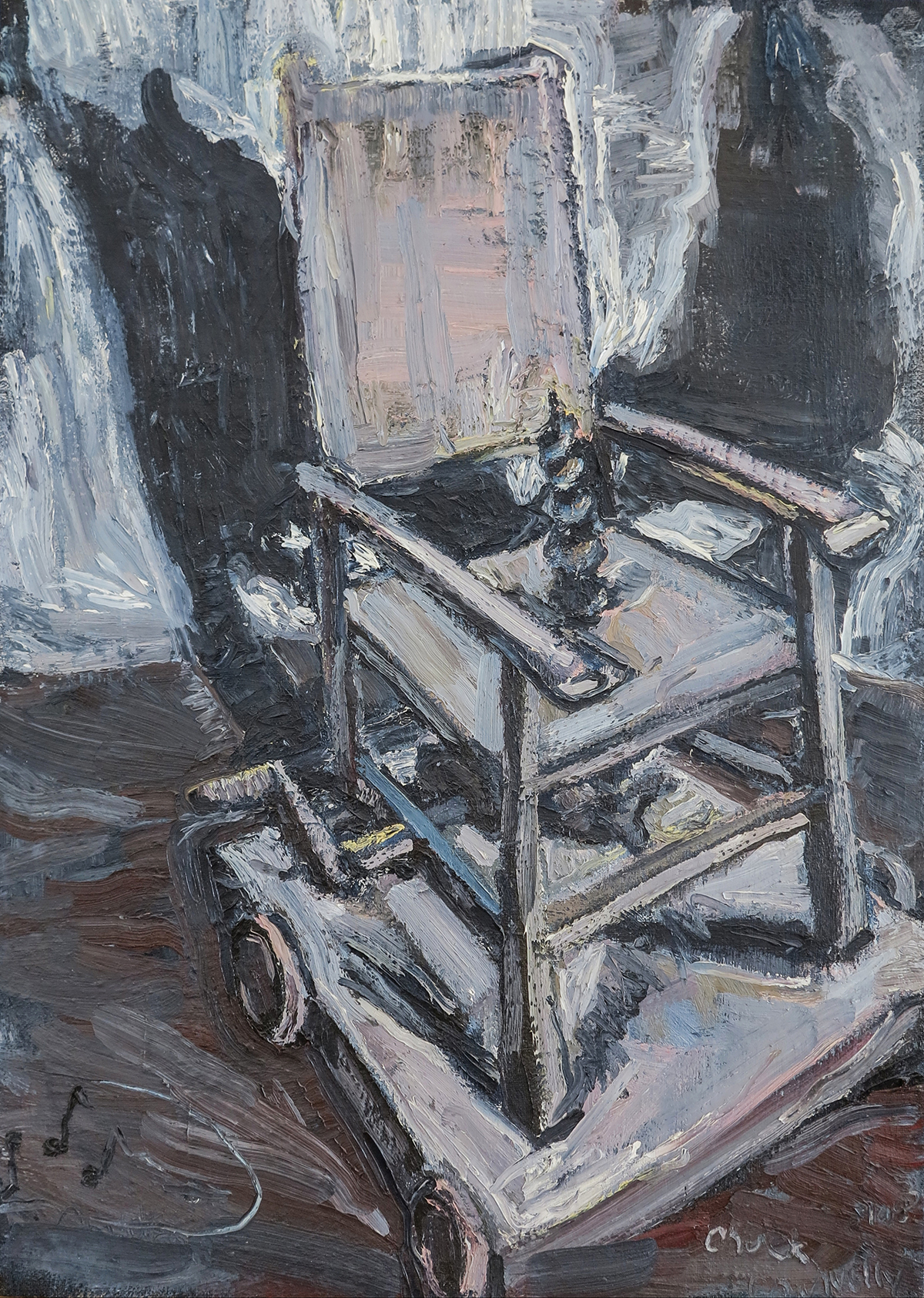 Musical Chair, 1983, oil on burlap
53 3/8 x 38 in., 135.5 x 96.5 cm
Recruiting Image, 1983, oil on burlap
37 3/4 x 31 1/2 in., 96 x 80 cm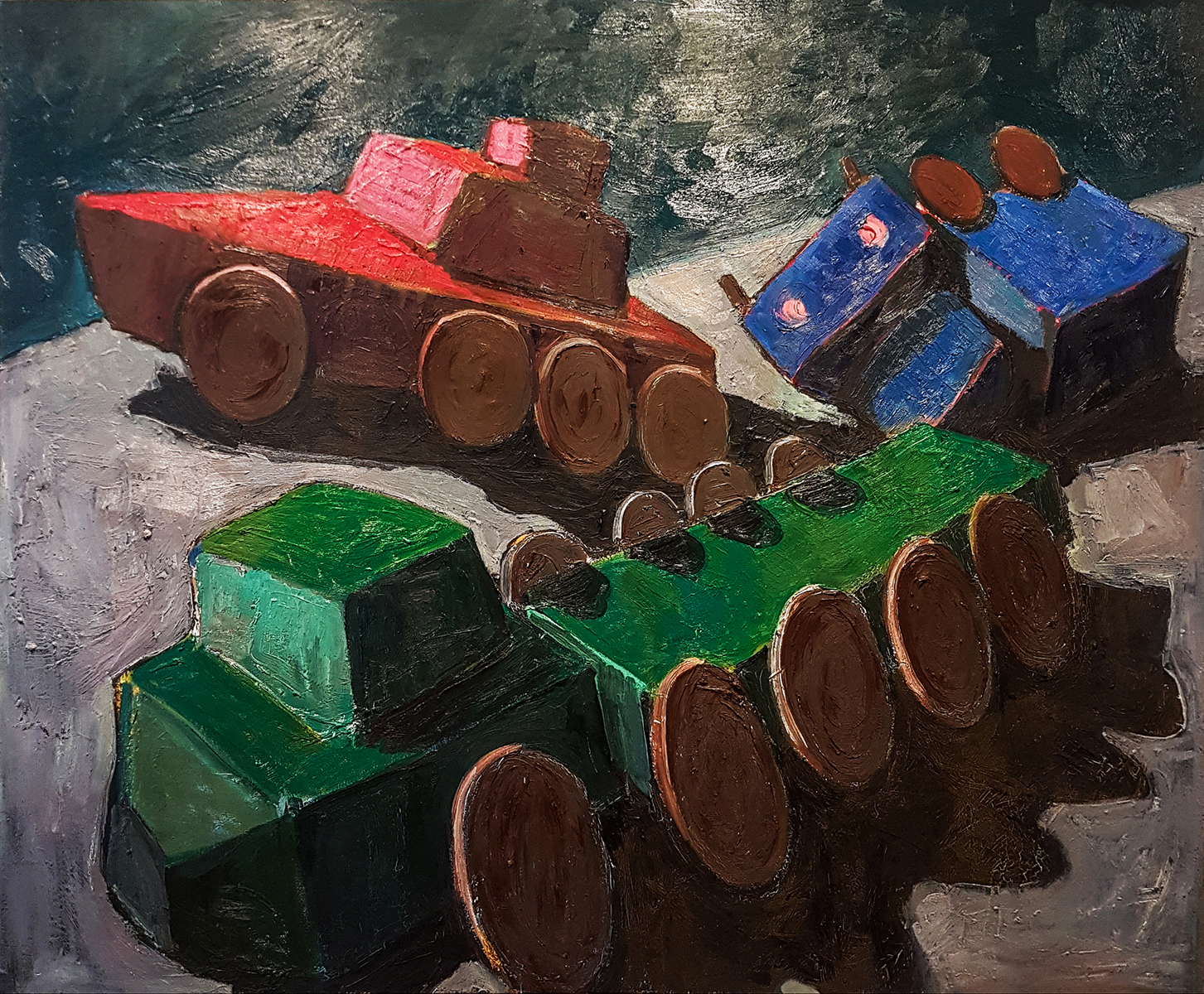 Trucks, 1984, oil on canvas
60 x 72 1/4 in., 152.5 x 183.5 cm
CHUCK CONNELLY – POETIC NIHILIST
Chuck Connelly's visual universe of the 1980s is a balancing act between subtle madness and imaginative grotesquery. His pictures brazenly affront the rigorously simple forms and objects of the then dominant movements of Minimal and Conceptual Art. They also challenge painting itself, figuration in particular, by radically subverting all convention. But Chuck Connelly is not an avant-garde artist seeking to create a new art trend by way of negation. He blithely annexes the vocabularies of art, film, and literary history, exploiting them like a databank to create work that not only lies utterly beyond tendency, convention, and imitation, but is larded – thanks to his visual memory – with surprising connections and risky cross-references.

Connelly paints with unabashed stylistic inconsistency; he has no definable 'Connelly style' and even combines different forms of expression within a single work. He blatantly flies in the face of such venerable devices in painting as perspective, chiaroscuro, modeling, illusion, and plasticity. The anti-intellectual and anti-rational spirit of his work vehemently eschews classical art theory, from academic interpretation to intellectual discourse, along with the claim to a harmoniously proportioned ideal of beauty as unique and absolute. There is no room for the idea of ugliness but it is defined in untold variations as imperfect, exaggerated, grotesque, and monstrous. And it is precisely here, in this antipodean category, that Chuck Connelly belongs, along with many other artists before and with him, who have been showered – as once the Dadaists and Surrealists – with such adjectives as bad, antagonistic, anti-aesthetic, cynical, ludicrous, and humorous, among them Francis Picabia (fig. 1), Giorgio de Chirico (fig. 2), René Magritte (fig. 3), Asger Jorn (fig. 4), Georg Baselitz (fig. 5), Neil Jenney (fig. 6), Philip Guston (fig. 7), Malcolm Morley (fig. 8), Peter Saul (fig. 9), and André Butzer (fig. 10).

| | | | |
| --- | --- | --- | --- |
| fig. 1 | fig. 2 | fig. 3 | fig. 4 |

| | | | |
| --- | --- | --- | --- |
| fig. 5 | fig. 6 | fig. 7 | fig. 8 |

The study of Connelly's art raises a fundamental question: how can a viewer judge whether a painting is good or bad, if the artist is interested in neither naturalistic representation nor formal innovation? How can pictures be evaluated, if there are no criteria? Connelly clearly mangles form and content and torpedoes the rules of good taste, but does so only to ultimately pose the same metaphysical and spiritual questions that artists always pose, though with his own inimitable creativity. The refusal to rely exclusively on the traditional canon can clearly be traced in the history of art as well. Artists championed Primitivism, Romanticism, Dadaism, Surrealism, and Abstract Expressionism in an attempt to breathe new life into art by subverting prevailing, accepted doctrine and imbue their works with their own individual and emotional intentions.

Still Life, 1983 (fig. 11) is primarily a dreary, positively boring still life: a charred roast chicken, spewing its innards (white spheres) on a white platter, flanked by a glass of milk and a box marked with a magical X. The radically distorted perspective of the tablecloth makes it look as if the platter were sliding toward the viewer, a painterly effect also seen in Caravaggio's The Supper at Emmaus, 1601 (fig. 12). While the Baroque masterpiece represents a magic moment in the New Testament, Connelly evokes a bleak allegory of the uncanny that recalls the ghastly nightmares David Lynch dished up in his cult horror film Eraserhead, 1977 (fig. 13). On the other hand, the subject matter is crushed by its own banality and ultimately transformed, acquiring an undercurrent of black humor of the kind pictured at times in the ironic still lifes of 17th century Flemish art (fig. 14) or in the absurdly dramatic paintings of the Pre-Raphaelites (fig. 15).

| | | | |
| --- | --- | --- | --- |
| fig. 11 | fig. 12 | fig. 13 | fig. 14 |

Musical Chair, Recruiting Image, Dark Rider, 1983 (figs. 16, 20, 24) are all three characterized by their expressive brushstroke, a subdued black-grey-blue palette, and the gloomy implications of a menacing, dark, and dangerous world.

Musical Chair, 1983 (fig. 16) is far from harmless, nothing like those used for the children's game and at an equally great remove from the eponymous NBC game show of the 1950s. Connelly's chair is a horrifying instrument of torture that harks back to the darkest Middle Ages or Hollywood's most gruesome B horror movies. Compared to this chair, in which a hand-operated corkscrew is drilled into the victim's anus, Andy Warhol's Electric Chairs of the 1960s (fig. 17) seem like elegant furniture and Vincent van Gogh's and David Hockney's anthropoid chairs (figs. 18, 19) like quite innocent seats.

| | | | |
| --- | --- | --- | --- |
| fig. 16 | fig. 17 | fig. 18 | fig. 19 |
In Recruiting Image, 1983 (fig. 20) Connelly paints and overpaints the flat, easily identifiable motifs of eagle, death, warrior, and lance with obsessive fervor, using short, wide, pastose brushstrokes to create an abstruse paint-nightmare. "I'll keep loading the paint on there, looking for this, looking for that, painting it red and green, blue and purple, yellow, orange, pretty colors, pinks – but then invariably, I'll go dark. […] The darkness comes from overworking them and that is like eternal darkness. I can't help myself. I can't help overworking it." (Chuck Connelly) This send-up of the visual syntax of a Baroque memento mori does not celebrate the fawning adulation of vanitas, as in Arnold Böcklin's Self-Portrait with Death Playing the Fiddle, 1872 (fig. 21), but is rather a derisive invocation of death, sex, violence, and religion – entirely in the spirit of Marquis de Sade's The 120 Days of Sodom, 1785 (fig. 22) or Pier Paolo Pasolini's Salò, or the 120 Days of Sodom, 1975 (fig. 23).

| | | | |
| --- | --- | --- | --- |
| fig. 20 | fig. 21 | fig. 22 | fig. 23 |
Dark Rider, 1983 (fig. 24) strikes the eye with its blunt, raw painting style and brilliant blend of black, white, and blue, which generate an immediacy and spontaneity and heighten the emotional impact of the subject matter. Like Albrecht Dürer's apocalyptic horsemen (fig. 25), Connelly's figure, rendered almost in silhouette, gallops from left to right brandishing a spear; however, knowing the artist, it could also be a rider endlessly circling around the arena as seen in old circus posters (fig. 26) or in Georges Seurat's Circus, 1891 (fig. 27).

| | | | |
| --- | --- | --- | --- |
| fig. 24 | fig. 25 | fig. 26 | fig. 27 |
Dusk and Dawn, 1982 (fig. 28), painted in conspicuously dirty colors, shows a composition of foreground and background, notably untypical of Connelly: river and grassland against house and sky. The flat foreground (blue-grey and green planes) acquires spatial depth through a delicate horizon (house and sky), which even brooks a bit of naturalism. The rickety, cartoon-like figures of rider and horse, about to leap across the river, bring to mind the sad figure of Don Quixote and his faithful horse Rocinante (Miguel de Cervantes, Don Quixote, 1605 (fig. 29) or Honoré Daumier's rendition thereof (fig. 30)), with whom many artists have identified through the centuries.

Blimp in a Box, 1984 (fig. 31) skillfully deploys color, subject matter, and spatial illusion to create an intricately constructed, imaginary architectural landscape. The geometric structure in the foreground, into which a zeppelin-like aircraft is wedged, lends the composition visual depth. As in French Cubism (fig. 32), rigid edges and round shapes yield an almost balanced play between plane and depth against a neutral background. Connelly deliberately exploits the tension between form and color, image and illusion, known and unknown, resolved and unresolved, but in the final analysis, everything always remains a formal and iconographic paradox.

In Dog, 1982 (fig. 33) a pale, whitish-gray dog is embedded in a neutral, creamy background and could barely be identified if it weren't for its glazed eye and red tongue. Both neutral background and dog have been painted with thick, coarse, and pastose brushstrokes, fixing the motif in a context that is defined neither in space nor time since it is detached from any real surroundings. The simple depiction of this distinctive animal with wide open eye and panting tongue is reminiscent of the small, one-eyed she-wolf hungrily prowling around in the inhospitable Alaskan landscape that features in Jack London's White Fang, 1906 (fig. 34). Simultaneous study of both the materiality and the motif of Connelly's painting leads to a subtle overlapping of realism and illusionism. The thick, expressionist application of the paint underscores its physical presence while the isolated animal becomes a poignant metaphor of the human and animal condition, similarly addressed in paintings by Neil Jenney (fig. 35).

Trucks, 1984 (fig. 36) shows a jumble of round (wheels) and angular (trucks) shapes, crisscrossing the picture plane and conjuring a curious atmosphere that is underscored by the strong red, blue, and green of the vehicles. One might interpret the work as a wistful return to an undefined playground of days long gone, but once again the trucks that loom large in the composition convey a mood of menace: climbing up, barreling down, and overturned, they could also be read as a pileup. Connelly's imagery, though enigmatic, is not rebellious in nature, as it visualizes the intimate niches of a personal, auto-symbolic biography consisting of dreams, illusions, and horrors. A similar atmosphere holds sway in Steven Spielberg's minimalist TV action thriller Duel, 1971 (figs. 37, 38), which does without much dialogue and transforms road traffic into the very embodiment of the anonymous malevolence, fear, and repression that can crush a human life. "I don't look at anything. I don't see a train or a tree. People say, 'Oh, you've been to Coney Island.' Never been there. I don't get out of my area at all. I dream. I live in a fake world anyway." (Chuck Connelly)

The Magician, 1980 (fig. 39), painted in a style of great distinction, is a dialogue between a handsome magician, elegantly attired in a tuxedo, and an enthralled audience in the background that proves on closer study to be a painted picture. The artiste, whose shadow is dramatically projected onto the wall, nimbly executes his time-honored rabbit hat trick for a host of imaginary spectators. He recommends himself to us with a beguiling smile, flaunting his artistry like a virtuoso or an inspired genius (note the striking similarity with today's world-famous magician and mentalist Nicolai Friedrich, fig. 40). The picture in the picture becomes a kind of psychogram that visualizes the artist's secret dream of unparalleled success, embodied by the mesmerized spectators with eyes and mouth wide open. Even Thalia, Greek goddess of music, dance, and song, appears in the brightly illuminated doorway, casting a long shadow that almost touches the artist's tuxedo. In European art history, a picture within a picture was used to represent spiritual life, chastity as well as sensuality (fig. 41); in the Baroque age, it represented vanitas and the transience of human aspiration (fig. 42); and in modern times, it has become a medium of not only self-perception and narcissistic duplication (fig. 43) but also of an expanded mind, recalling Joseph Beuys' performance How to Explain Pictures to a Dead Hare enacted on November 26, 1965 at Galerie Schmela in Düsseldorf (fig. 44). This image proves to be a tragic dialogue between reality and dream, truth and poetry. The seductive magician in Connelly's world plays his game between reality and delusion to the bitter end: a whimsically smiling somnambulist, a tragic clown, deprived of applause at the close of his performance.

| | | | |
| --- | --- | --- | --- |
| fig. 39 | fig. 40 | fig. 41 | fig. 42 |

In the early 1980s, when the first wave of New Painting hit the international scene, artists like Jean-Michel Basquiat (fig. 45), Julian Schnabel (fig. 46), Francesco Clemente (fig. 47), and Sandro Chia (fig. 48) began celebrating figuration, large formats, and expressive painting. Chuck Connelly was among them but instead of embracing the mainstream aesthetic of those days, he faithfully pursued his own mad mythology and anarchistic sensuality.

| | | | |
| --- | --- | --- | --- |
| fig. 45 | fig. 46 | fig. 47 | fig. 48 |
Connelly's works may be insulting, abusive, humiliating, condescending, belittling, offensive, and rude, but they are never destructive or antihumanist. They appear primitive, simple, formally incongruent, and emotionally direct, at times absurd, at others touching, uncanny, moving, and outrageously funny. And yet, the mastery and immediacy of his paintings, so free-spirited and matter-of-fact, communicate a very personal, humane take on an undeniably complicated world. So are these works the product of a vain lunatic, a demented figurative expressionist, a madhouse realist, an artistically driven romanticist, a primitivist or a poetic nihilist? Whatever the case, one thing is certain, they are first and foremost the product of unconditional, relentless honesty.
© Essay: Georg Frei
© Editors: Xenia Gokhberg and Claudio Stefanutto
© Translation: Catherine Schelbert
Biography
1955
born January 7, 1955 in Pittsburgh, Pennsylvania
1977
graduates from Tyler School of Art in Philadelphia, Pennsylvania
1980
moves to New York, Dr. Robert C. Atkins becomes his first patron, two years in Germany
1984
shows regularly at Annina Nosei Gallery in New York, key figure of the New York art world with Julian Schnabel and Jean-Michel Basquiat
1989
in Martin Scorsese's movie New York Stories the main character Lionel Dobie (played by Nick Nolte) is inspired by Connelly's artistic life
1999
returns to Philadelphia where he lives and works to this day, approx. 5,000 paintings are stored in his old Victorian house on East Oak Lane
2008
the Emmy award-winning documentary The Art of Failure. Chuck Connelly Not for Sale (directed by Jeff Stimmel) premieres at the L.A. Film Festival
2020
the full-length documentary Chuck Connelly. Into the Light (directed by Benjamin Schwartz) premieres at the SCAD Savannah Film Festival
Selected One-Man Shows (1980s)
Chuck Connelly, Bilder und Skulpturen, Arno Cohen, Düsseldorf, Germany, 1982
Chuck Connelly, Paintings, Annina Nosei Gallery, New York, NY, 1984
Chuck Connelly, Serra di Felice Gallery, New York, NY, 1984
Chuck Connelly, Northern Illinois University Art Gallery, Chicago, IL, 1984
Chuck Connelly, Paintings, Annina Nosei Gallery, New York, NY, 1985
Chuck Connelly, Paintings, Lawrence Oliver Gallery, Philadelphia, PA, 1985
Chuck Connelly, Annina Nosei Gallery, New York, NY, 1986
Chuck Connelly, Asher/Faure Gallery, Los Angeles, CA, 1986
Chuck Connelly, Annina Nosei Gallery, New York, NY, 1987
Chuck Connelly, Galleria La Planita, Rome, Italy, 1987
Chuck Connelly, Thomas Segal Gallery, Boston, MA, 1989
Chuck Connelly, New Paintings, Lennon, Weinberg, New York, NY, 1989
Selected Bibliography (1980s)
Chuck Connelly, New York: Annina Nosei Gallery, 1985
Chuck Connelly, Philadelphia: Locks Gallery, 1985
The Burning Brush, David Bowes, Michael Byron, Chuck Connelly, McDermott & McGough, Boston: Mario Diacono Gallery, 1986
Aspects of Nature, Ridgefield: Aldrich Museum of Contemporary Art, 1986
American, Italian, Mexican Art from the Collection of Francesco Pellizzi, Hempstead: Hofstra University, 1989
Filmography
New York Stories, Life Lessons, directed by Martin Scorsese, starring Nick Nolte, and inspired by Chuck Connelly's artistic life, 1989
The Art of Failure. Chuck Connelly Not for Sale, HBO documentary film series, produced and directed by Jeff Stimmel, 2008
Chuck Connelly, Into the Light, directed by Benjamin Schwartz, 2020
Illustrations
fig. 1: Francis Picabia, Mi-Carême, c. 1925, fig. 2: Giorgio de Chirico, Gladiatori, 1930-33, fig. 3: René Magritte, Le Stropiat, 1948, fig. 4: Asger Jorn, En Place pour le Rite, 1957, fig. 5: Georg Baselitz, Der Acker, 1962, fig. 6: Neil Jenney, Girl and Doll, 1969, fig. 7: Philip Guston, Painter's Forms II, 1978, fig. 8: Malcolm Morley, The Injuns are Cuming. The Officer of the Imperial Guard is Fleeing, 1983, fig. 9: Peter Saul, Self, 1987, fig. 10: André Butzer, Untitled, 2008, fig. 11: Chuck Connelly, Still Life, 1983, fig. 12: Michelangelo Merisi da Caravaggio, The Supper at Emmaus, 1601, fig. 13: David Lynch, Eraserhead, 1977, fig. 14: Osias Beert the Elder and Studio, Still Life of a Roast Chicken, a Ham, and Olives on Pewter Plates with a Bread Roll, an Orange, Wineglasses, and a Rose on a Wooden Table, c. 1580-1624, fig. 15: John Everett Millais, Ophelia, 1851-52, detail, fig. 16: Chuck Connelly, Musical Chair, 1983, fig. 17: Andy Warhol, Big Electric Chair, 1967-68, fig. 18: Vincent van Gogh, Van Gogh's Chair, 1888, fig. 19: David Hockney, Vincent's Chair and Pipe, 1988, fig. 20: Chuck Connelly, Recruiting Image, 1983, fig. 21: Arnold Böcklin, Self-Portrait with Death Playing the Fiddle, 1872, fig. 22: Marquis de Sade, The 120 Days of Sodom, 1785, fig. 23: Pier Paolo Pasolini, Salò, or the 120 Days of Sodom, 1975, fig. 24: Chuck Connelly, Dark Rider, 1983, fig. 25: Albrecht Dürer, The Four Horsemen of the Apocalypse, 1497-98, fig. 26: Bertram Mills Circus Poster, 1937, fig. 27: Georges Seurat, Circus, 1891, fig. 28: Chuck Connelly, Dusk and Dawn, 1982, fig. 29: Miguel de Cervantes, Don Quijote, 1605, fig. 30: Honoré Daumier, Don Quichotte et Sancho Panza, c. 1868, fig. 31: Chuck Connelly, Blimp in a Box, 1984, fig. 32: Pablo Picasso, Girl with a Mandolin (Fanny Tellier), 1910, fig. 33: Chuck Connelly, Dog, 1982, fig. 34: Jack London, White Fang, 1906, fig. 35: Neil Jenney, Dog and Food, 1969-70, fig. 36: Chuck Connelly, Trucks, 1984, figs. 37 and 38: Steven Spielberg, Duel, 1971, fig. 39: Chuck Connelly, The Magician, 1980, fig. 40: Nicolai Friedrich, fig. 41: Jan Vermeer, Allegory of the Catholic Faith, c. 1670-72, fig. 42: Cornelius Norbertus Gijsbrechts, Trompe l'Oeil with Studio Wall, 1668, fig. 43: René Magritte, La Reproduction Interdite, 1937, fig. 44: Joseph Beuys, How to Explain Pictures to a Dead Hare, November 26, 1965, fig. 45: Jean-Michel Basquiat, Untitled, 1982, fig. 46: Julian Schnabel, What Once Denoted Chaos is Now a Matter of Record, 1981, fig. 47: Francesco Clemente, Name, 1983, fig. 48: Sandro Chia, Courageous Boy with Flag, 1982
Back