A CERTAIN SMILE
March 1 – June 25, 2021
TRIO INFERNAL
BÜTTNER KIPPENBERGER OEHLEN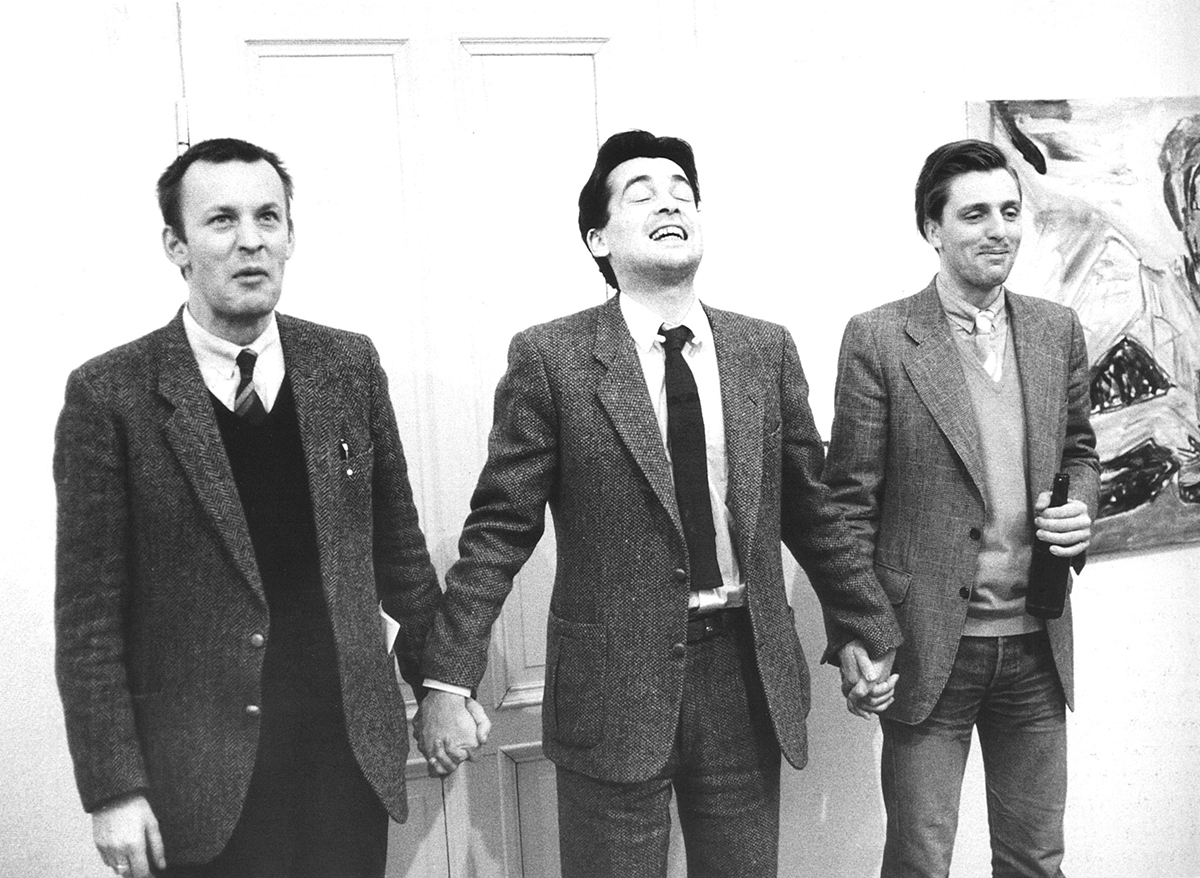 WERNER BÜTTNER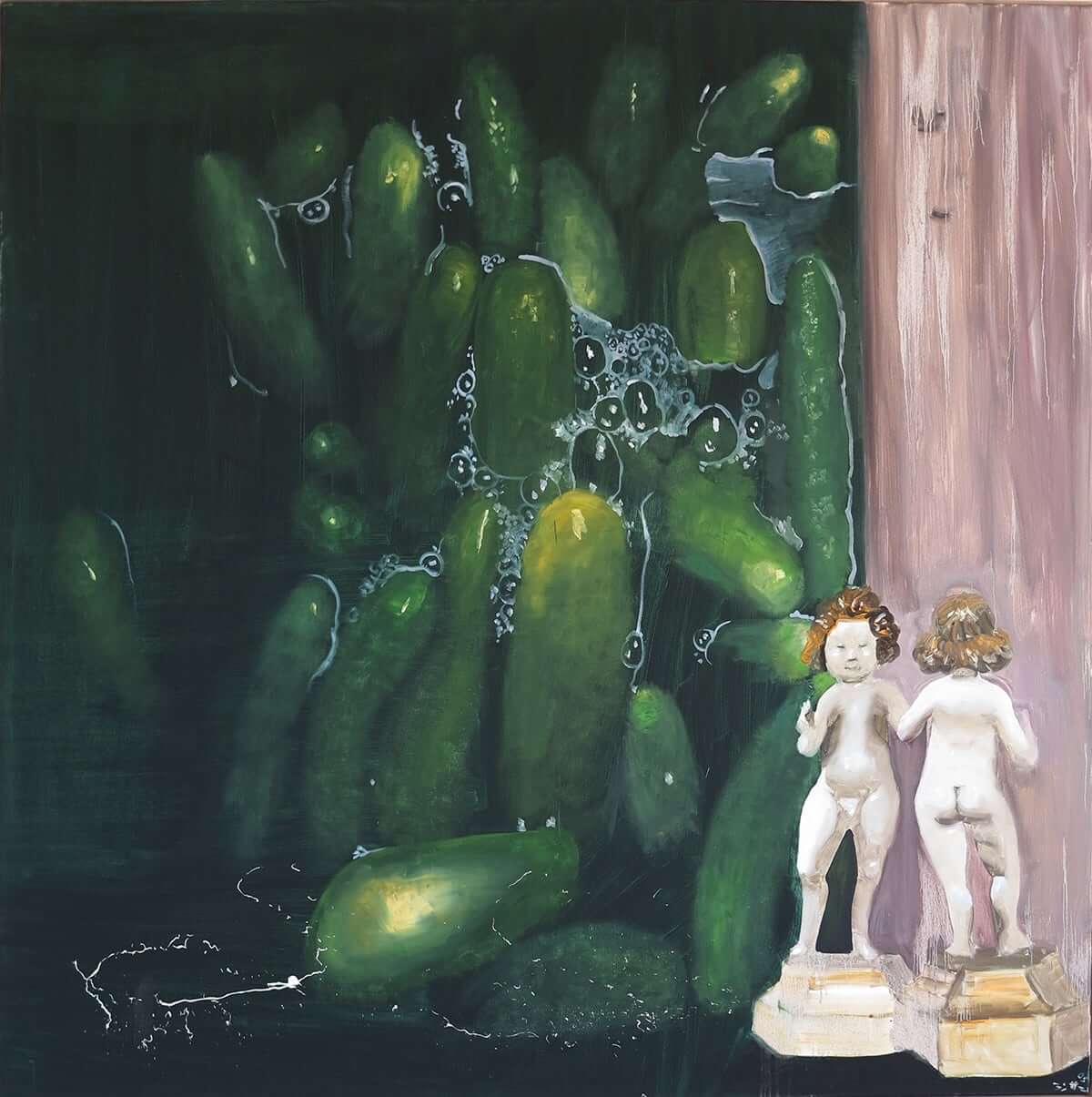 Werner Büttner, Tanz der Vorratsschädlinge, 2005, oil on canvas
74 3/4 x 74 3/4 in., 190 x 190 cm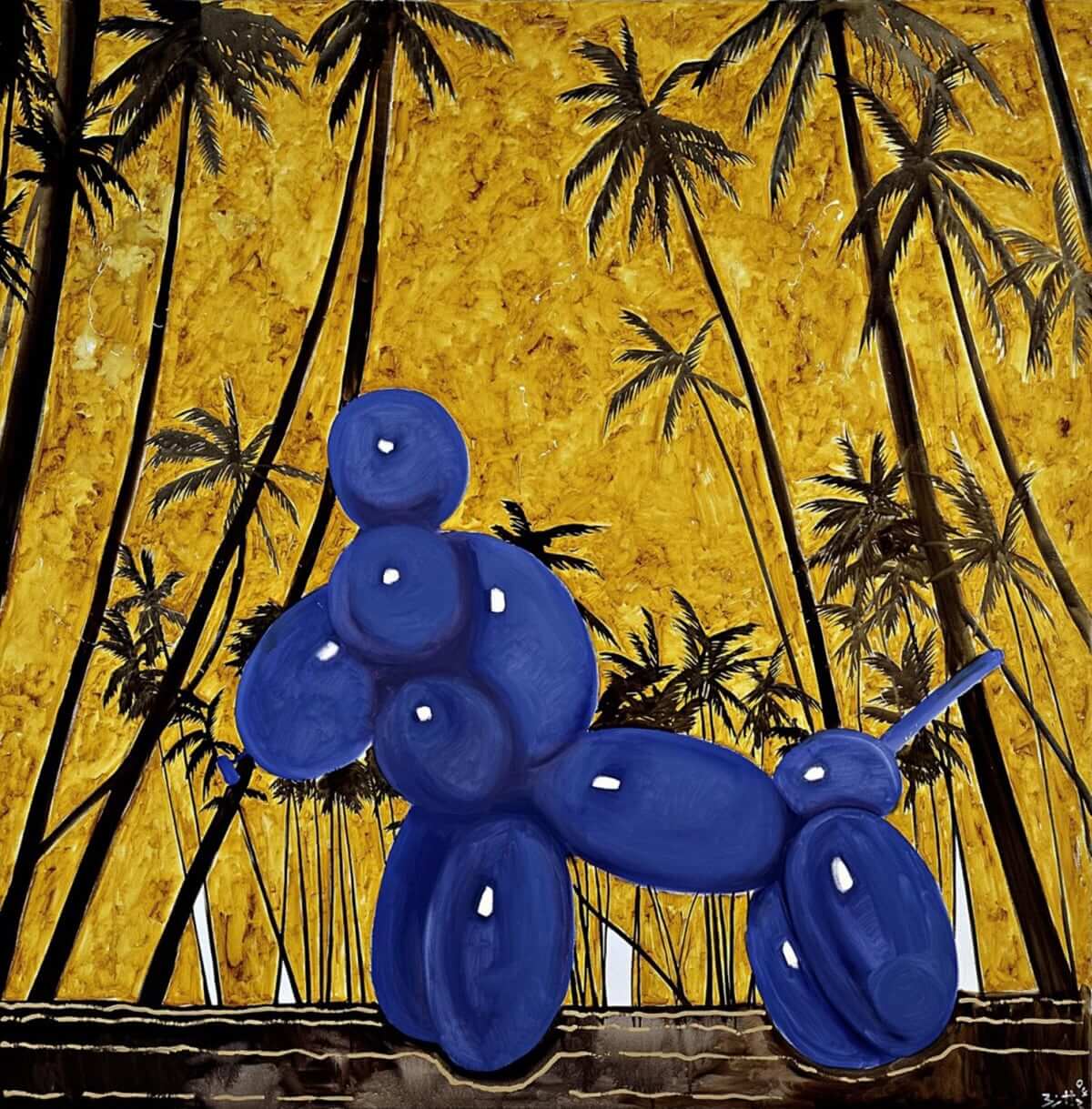 Werner Büttner, Artefakt in Pudelform, 2004, oil on canvas
74 3/4 x 74 3/4 in., 190 x 190 cm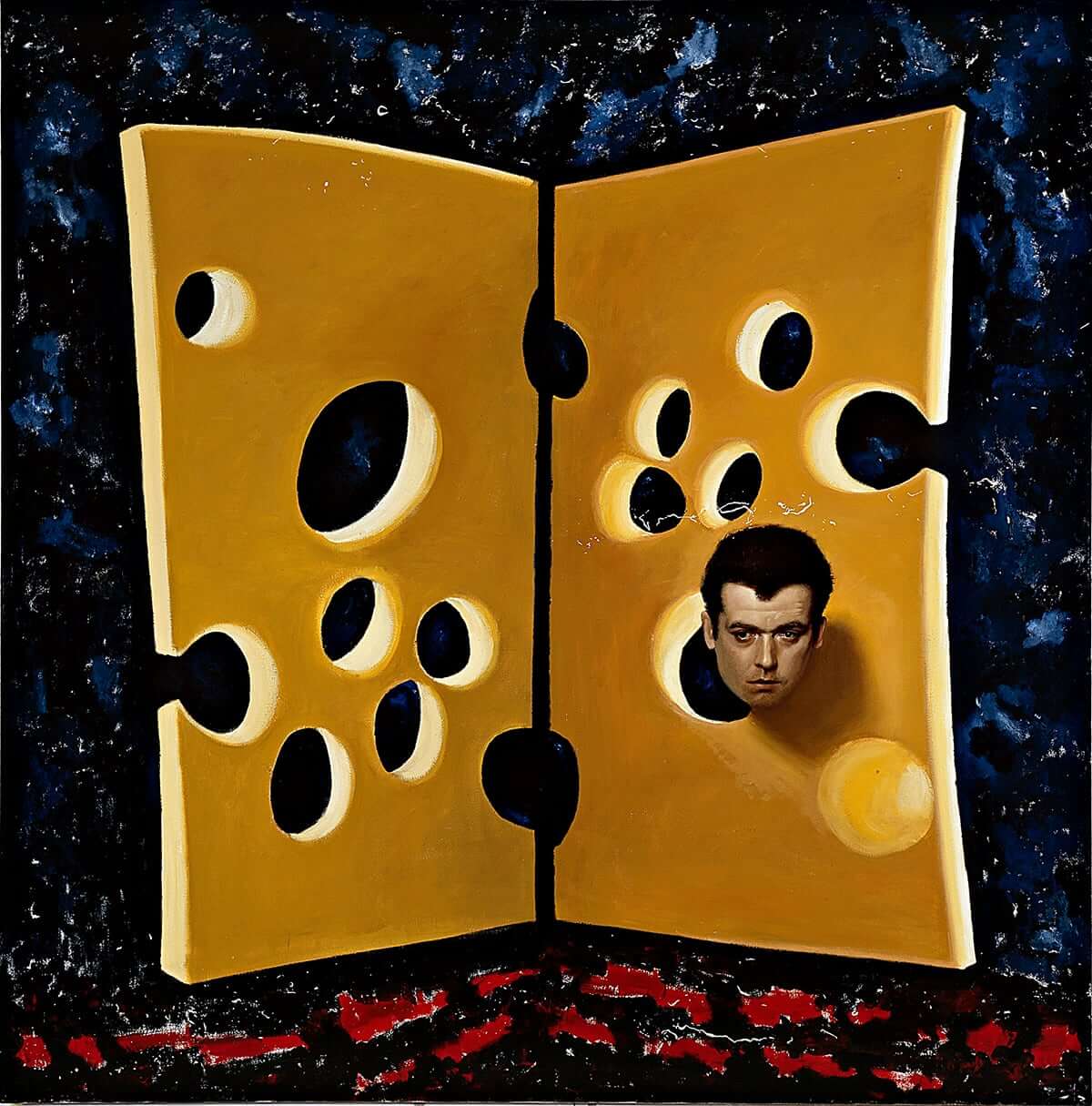 Werner Büttner, Der Blick durch den Käse, 2004, oil on canvas
74 3/4 x 74 3/4 in., 190 x 190 cm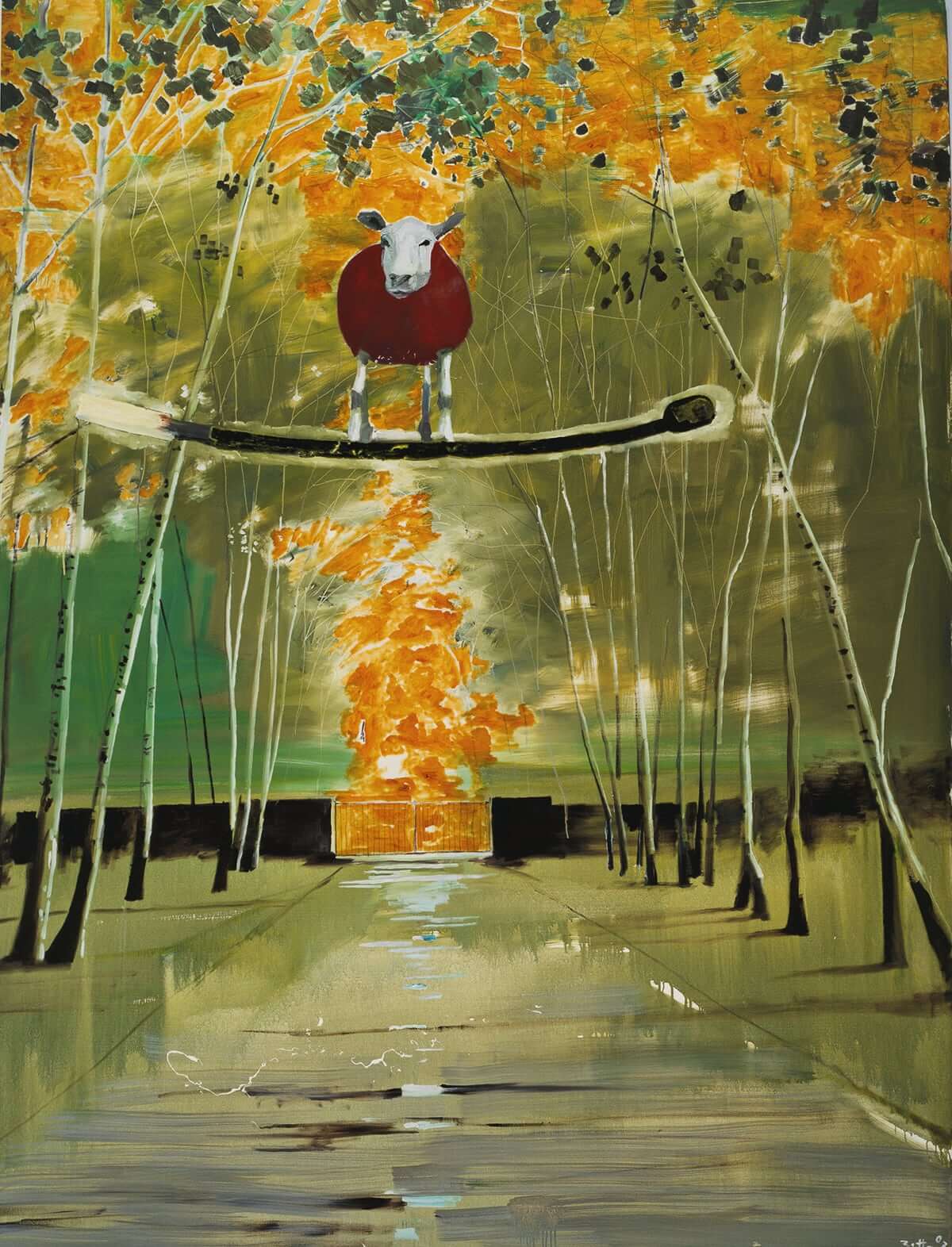 Werner Büttner, Mahnende Erscheinung, 2007, oil on canvas
94 1/4 x 74 5/8 in., 239.5 x 189.5 cm
MARTIN KIPPENBERGER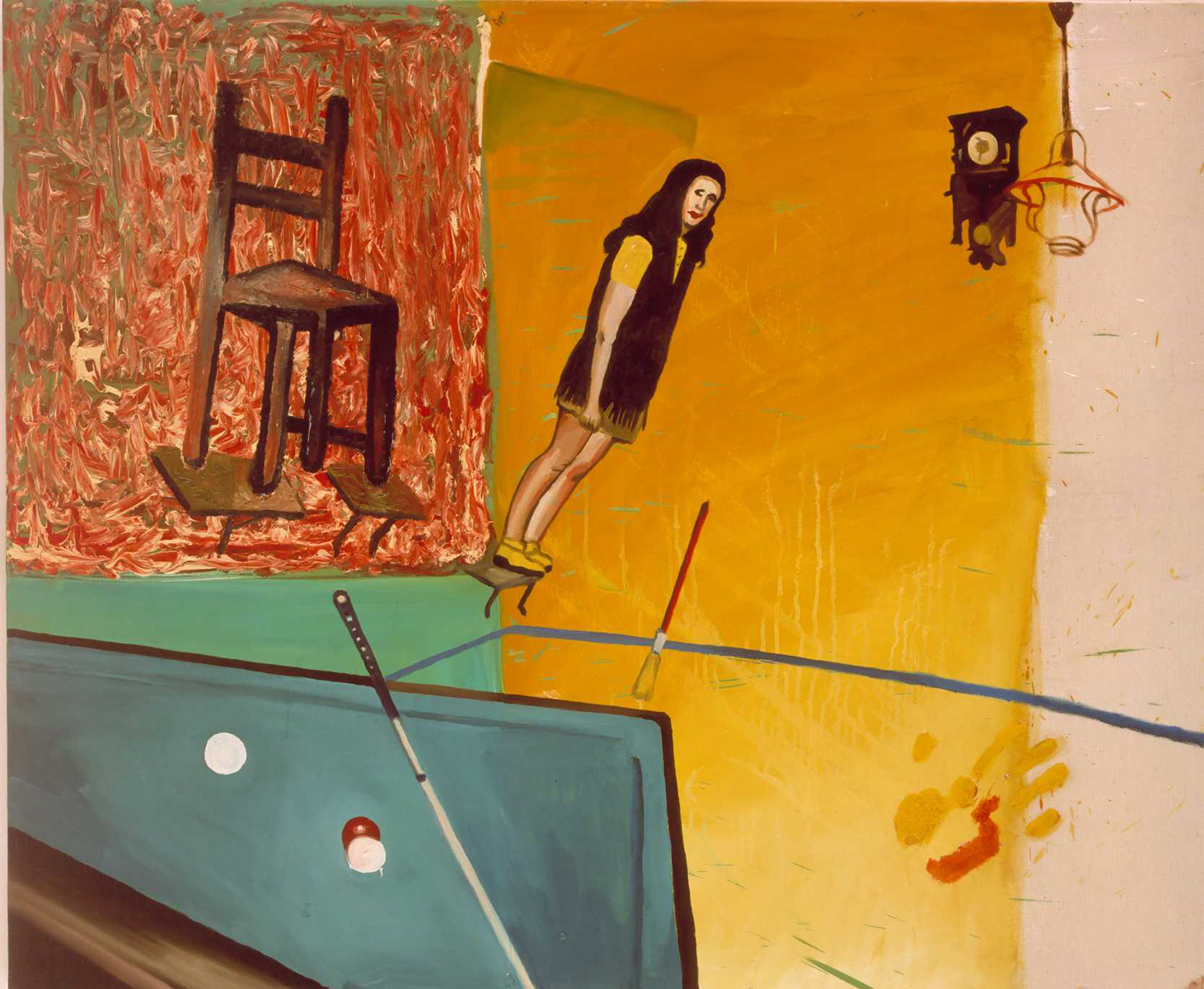 Martin Kippenberger, Casa Magnetica in very veritas, 1983, oil on canvas
39 3/8 x 47 1/4 in., 100 x 120 cm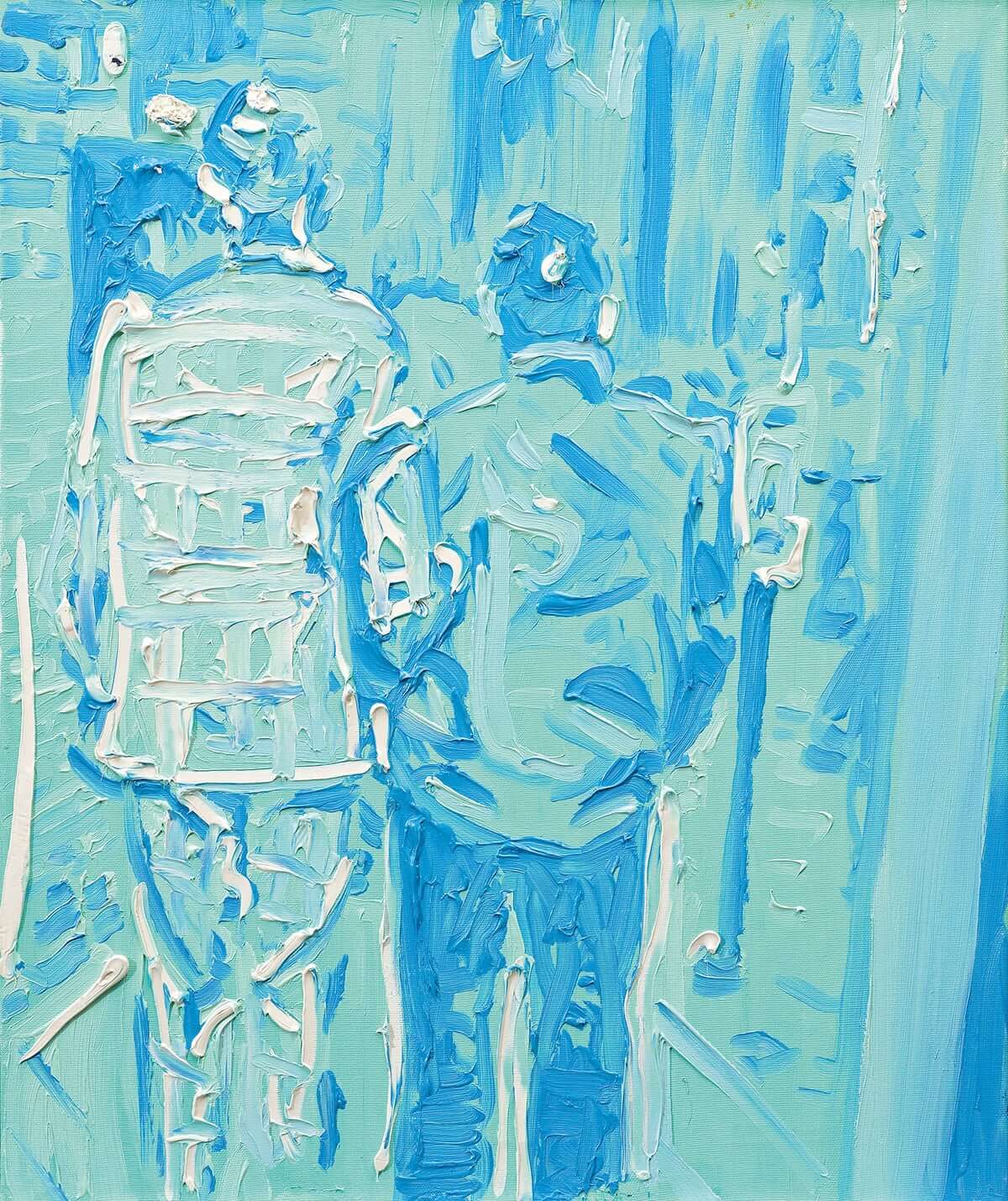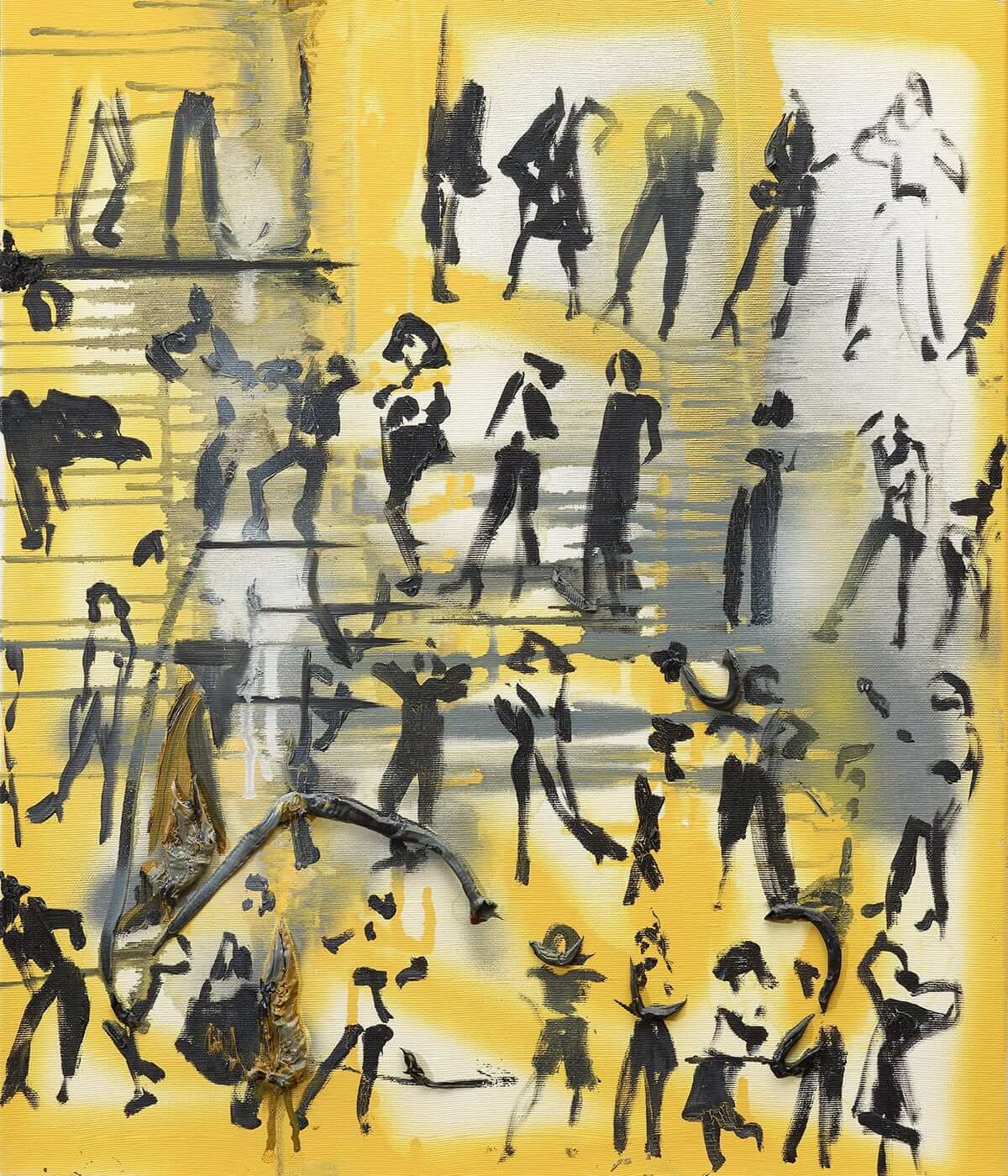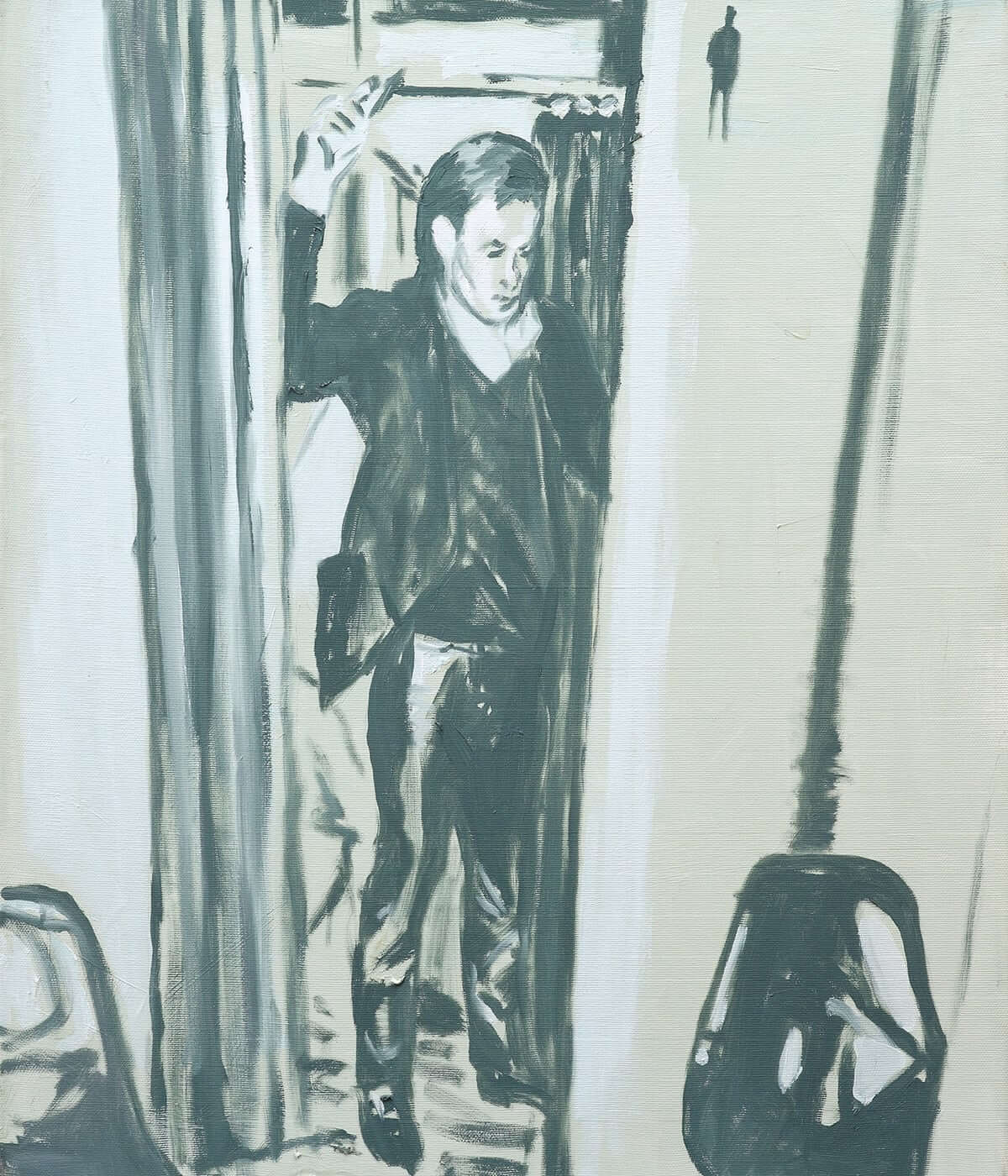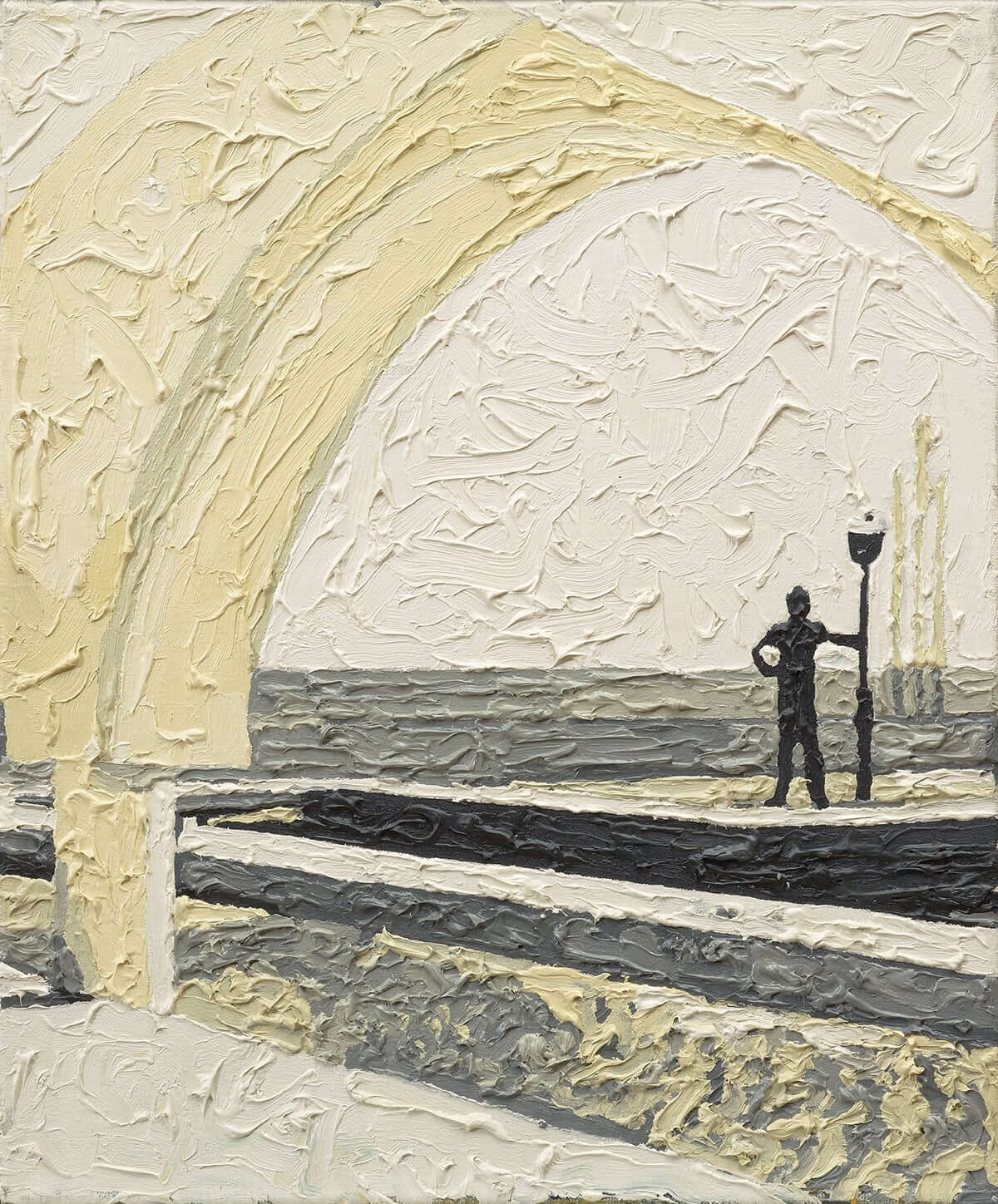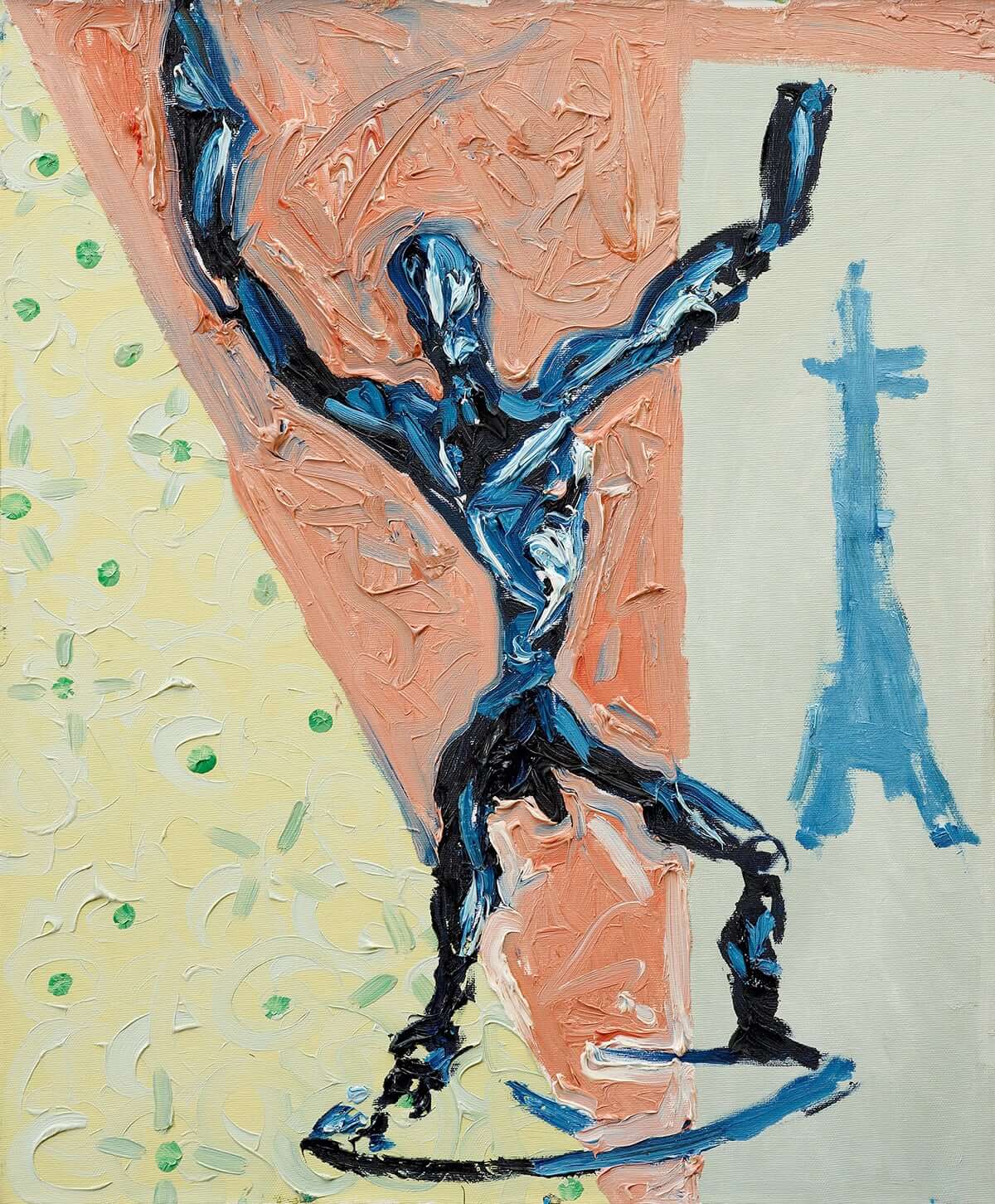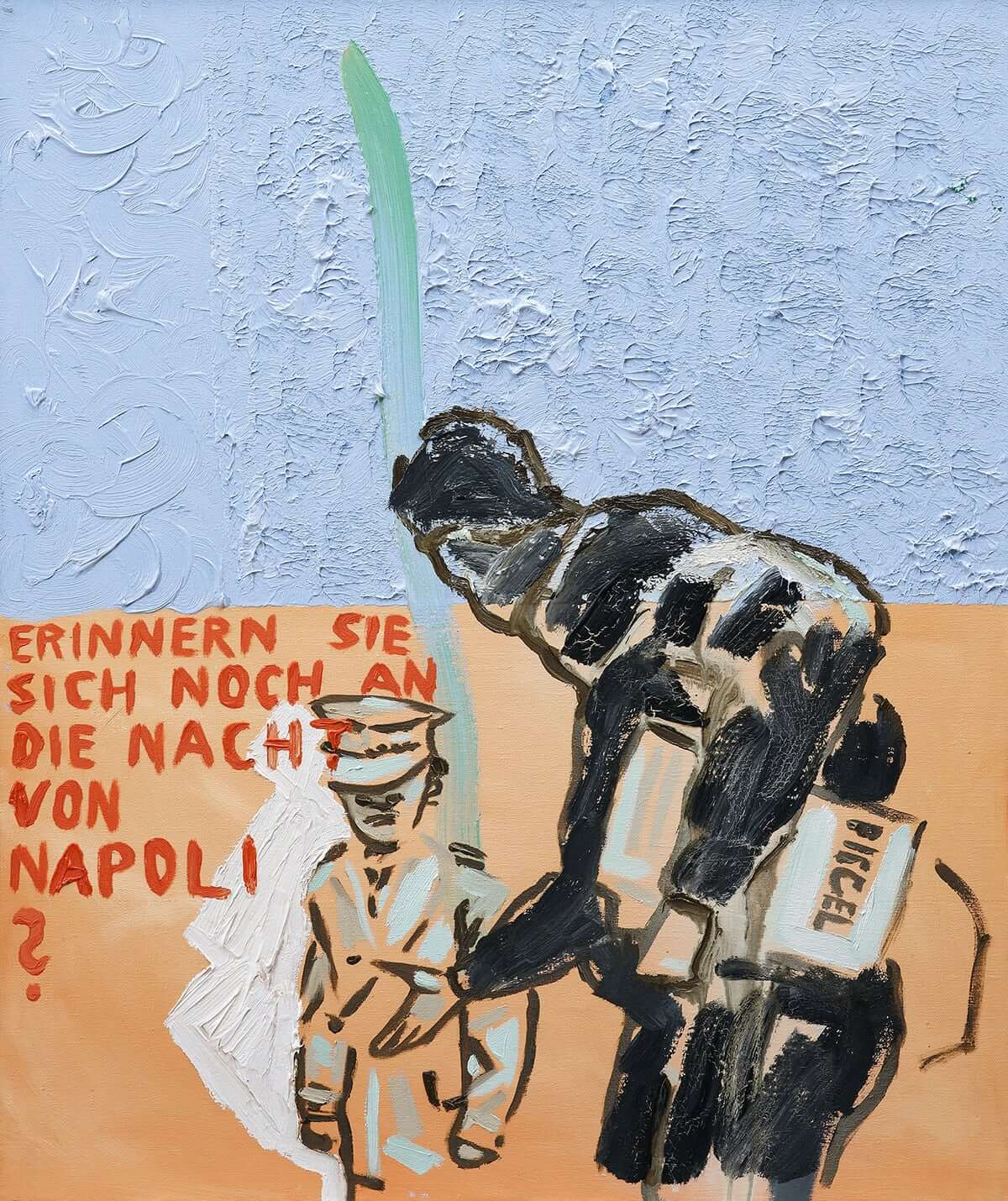 Martin Kippenberger, Witzig, witzig (Freizeit in Düsseldorf, Menschen einer Grossstadt vor dem Hotel, Touch Me, Kippermann als Neckermann in tunesischer Vanillesosse, Hurra, ich hab die Mittlere Reife,
Erinnern Sie sich noch an die Nacht von Napoli?), 1981, oil on canvas
6 panels: 23 5/8 x 19 5/8 in., 60 x 50 cm (each)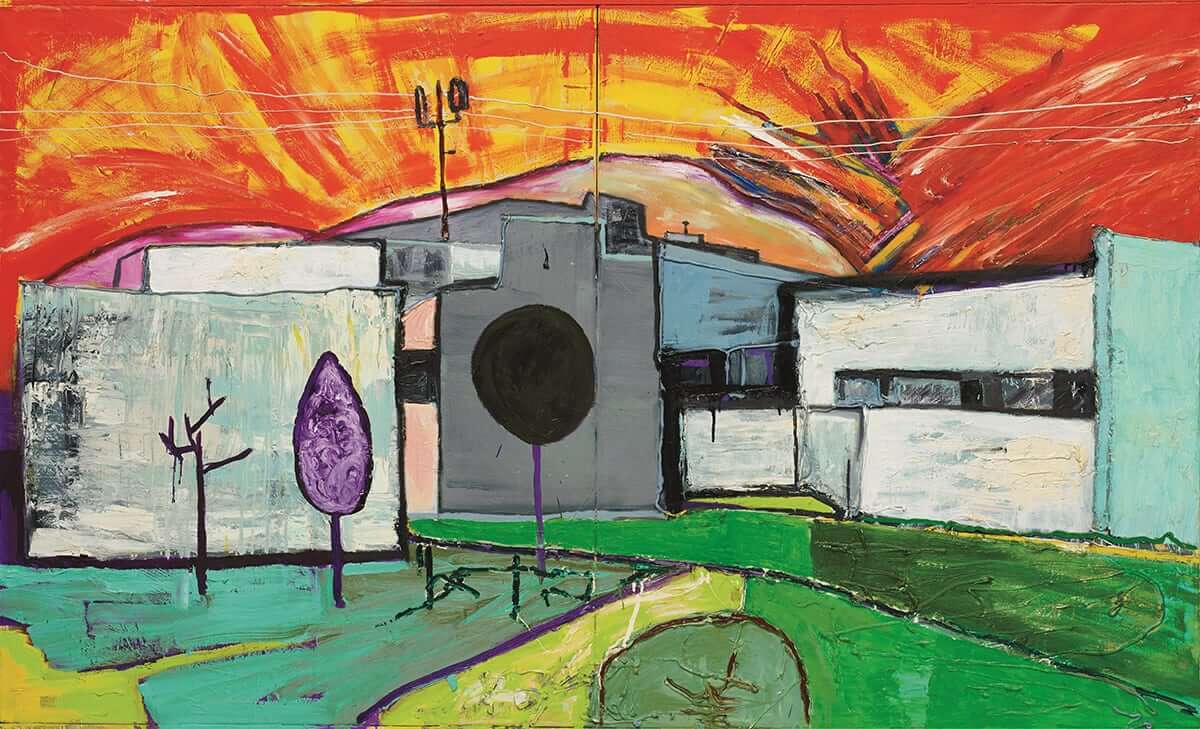 Martin Kippenberger, Untitled, 1984, oil and silicone on canvas
48 x 78 3/4 in., 122 x 200 cm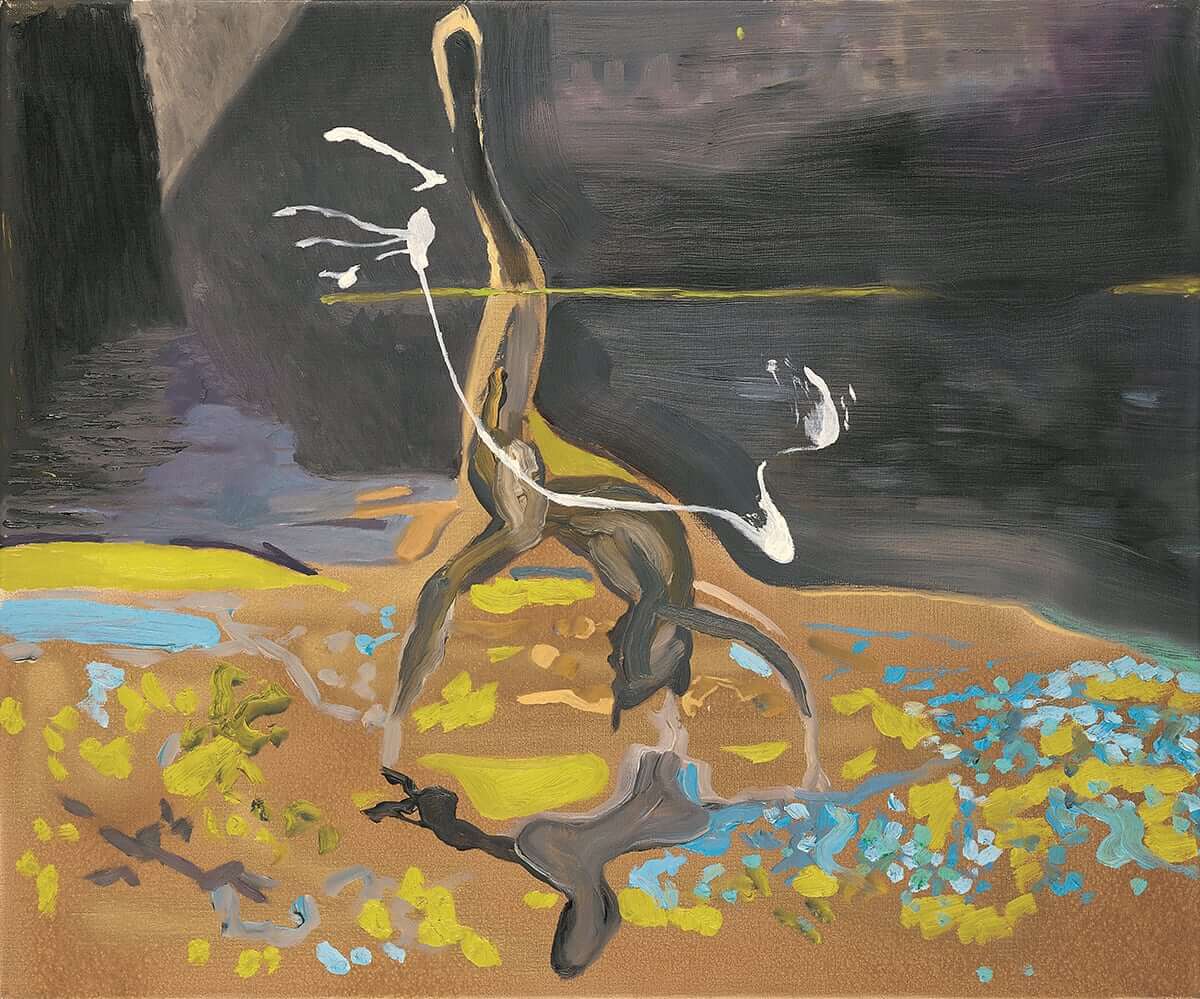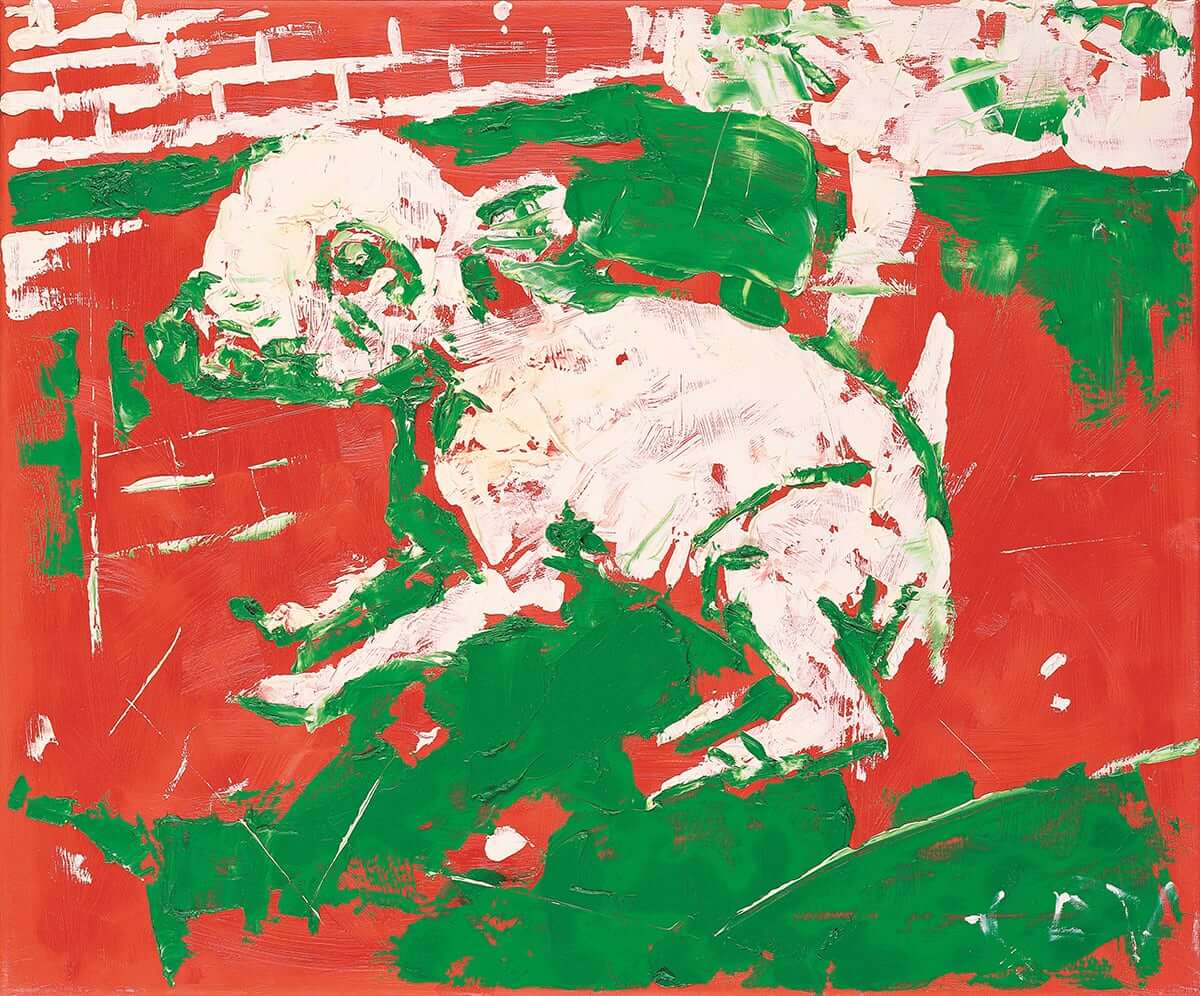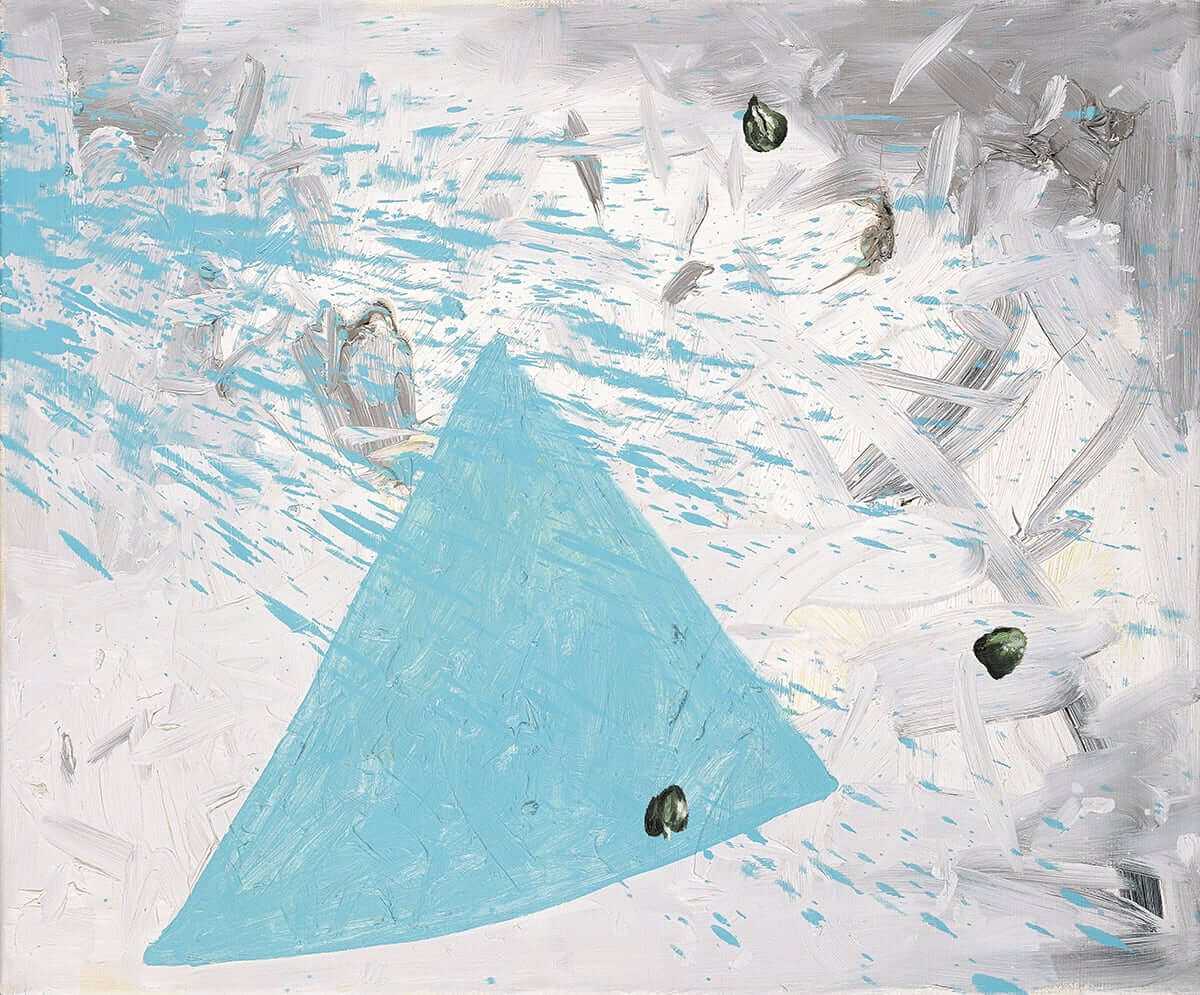 Martin Kippenberger, Frühlingssalat, (Eva Braun am Königssee, Markus,
Bloss keine Kapern), 1981, oil on canvas
3 panels: 19 5/8 x 23 5/8 in., 50 x 60 cm (each)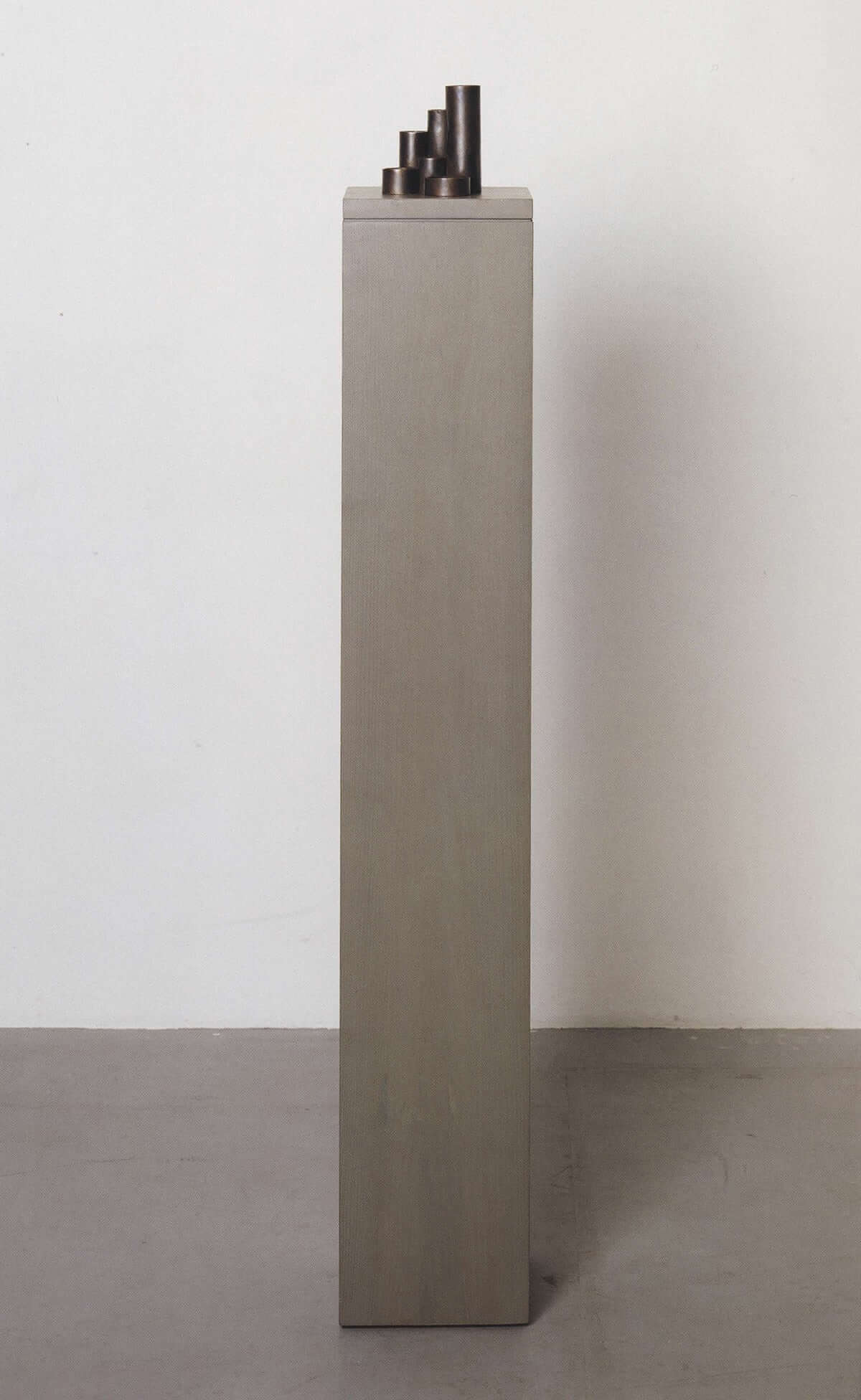 Martin Kippenberger, New York von der Bronx aus gesehen, 1985
bronze on wooden base, cast 1/3
64 3/4 x 9 7/8 x 9 7/8 in., 164.5 x 25 x 25 cm
ALBERT OEHLEN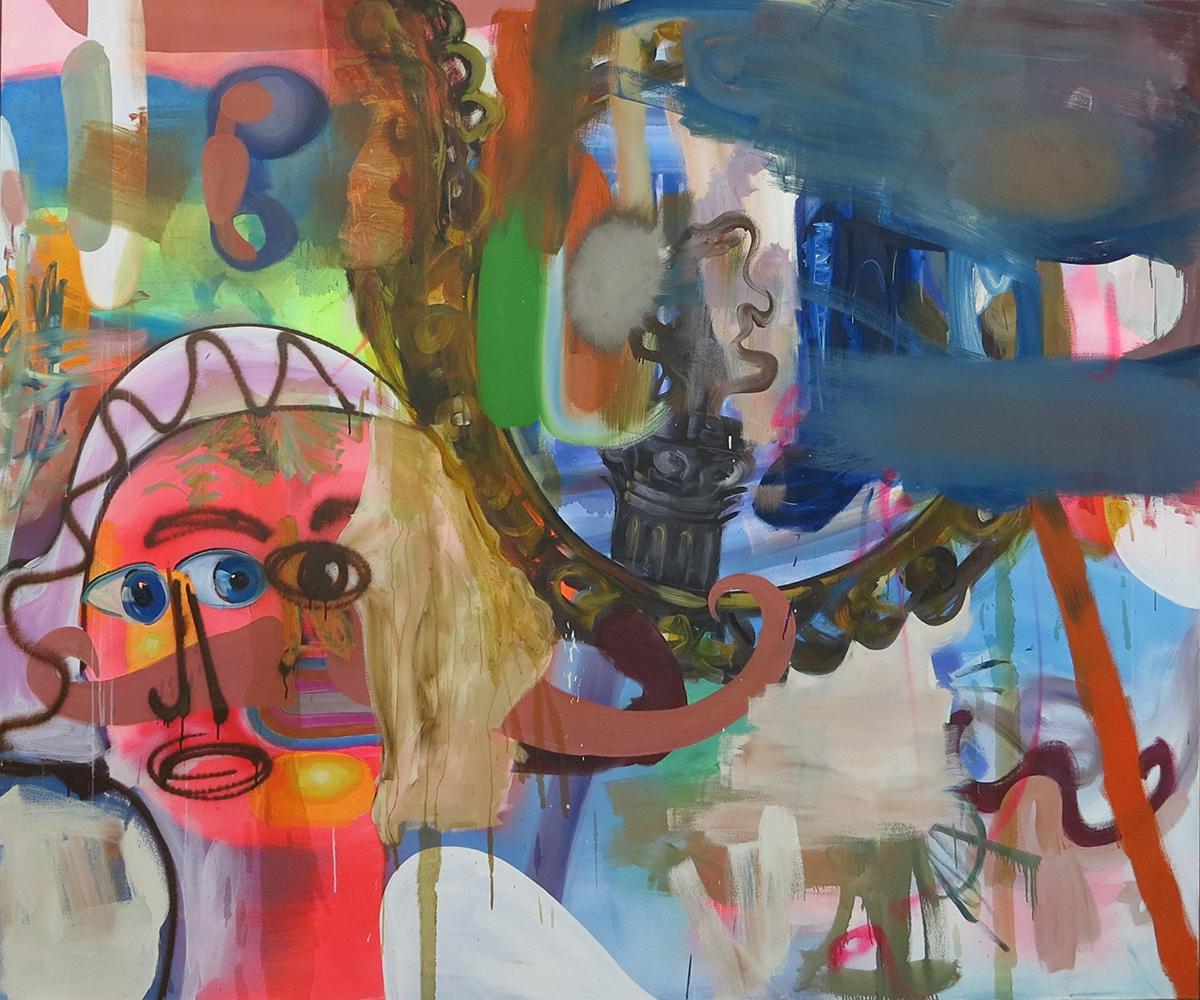 Albert Oehlen, Das schwarze Haus, 2000, oil on canvas
78 1/2 x 94 1/2 in., 199.5 x 240 cm
TRIO INFERNAL
In the 1970s, Werner Büttner, Martin Kippenberger, and Albert Oehlen formed a casual group that shared an innovative worldview and artistic complicity. The three gentlemen stepped into the limelight like a 'Trio Infernal' that whipped up German and international contemporary art with their incendiary political and anarchic painting.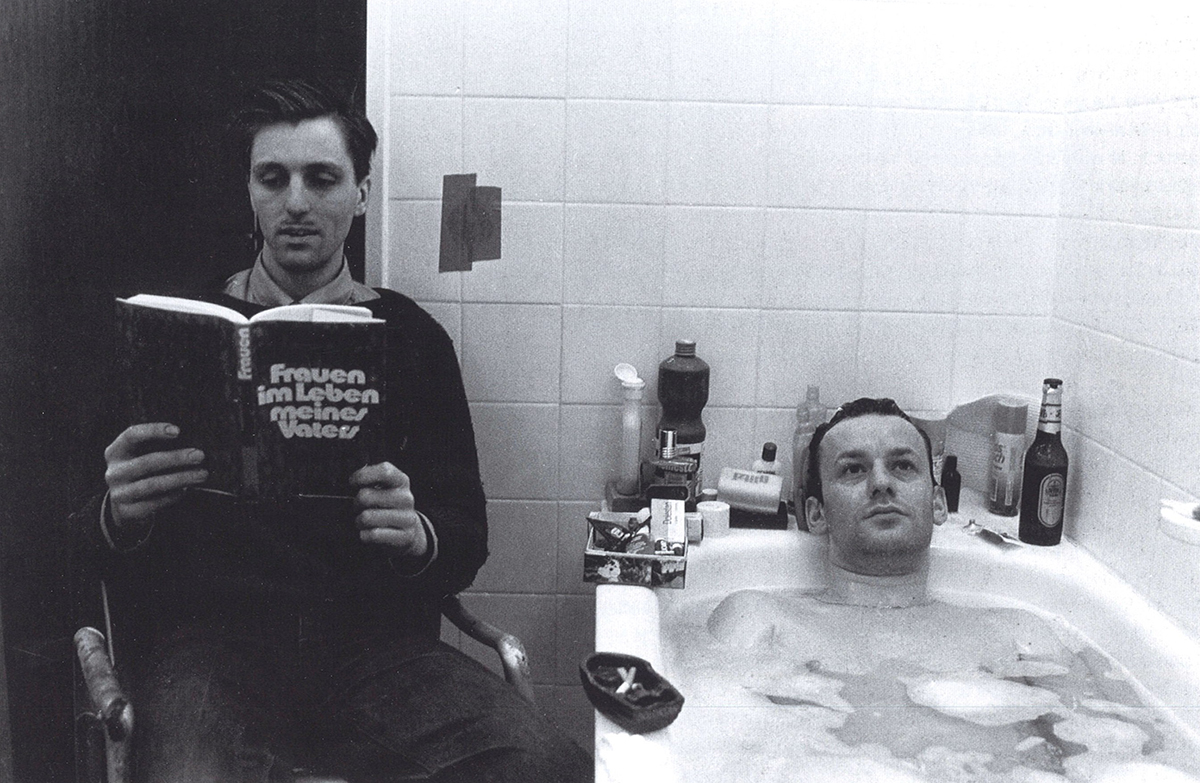 "Our tactics, if you will, are a matter of plunging into whatever is around and can be rubbed onto the canvas. Basically we are practically uninvolved in the whole affair. We read the paper in the morning and paint in the afternoon. This state is responsible for the outcome." (Albert Oehlen)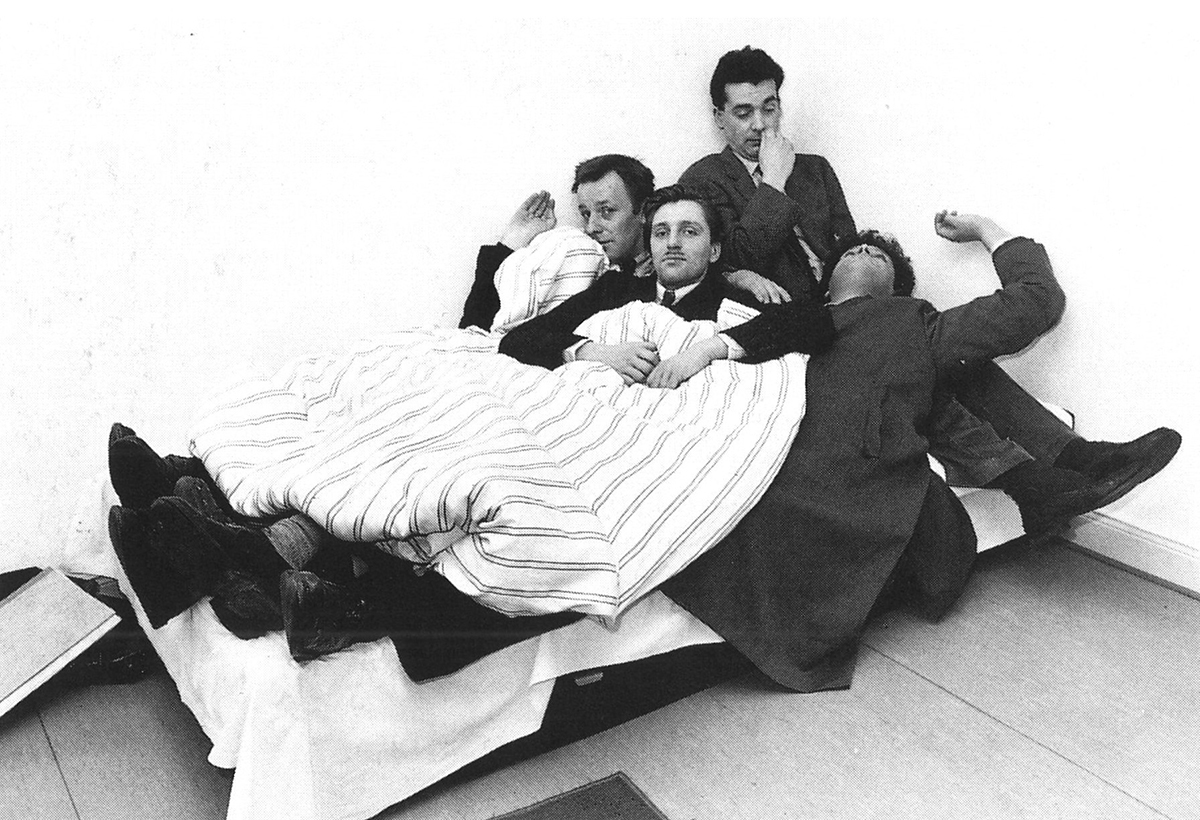 Their artistic agenda flouted the then dominant movements of Conceptual and Minimal Art but also Arte Povera, whose exponents had been issuing intellectual pamphlets for years in which they declared that painting pictures was dead.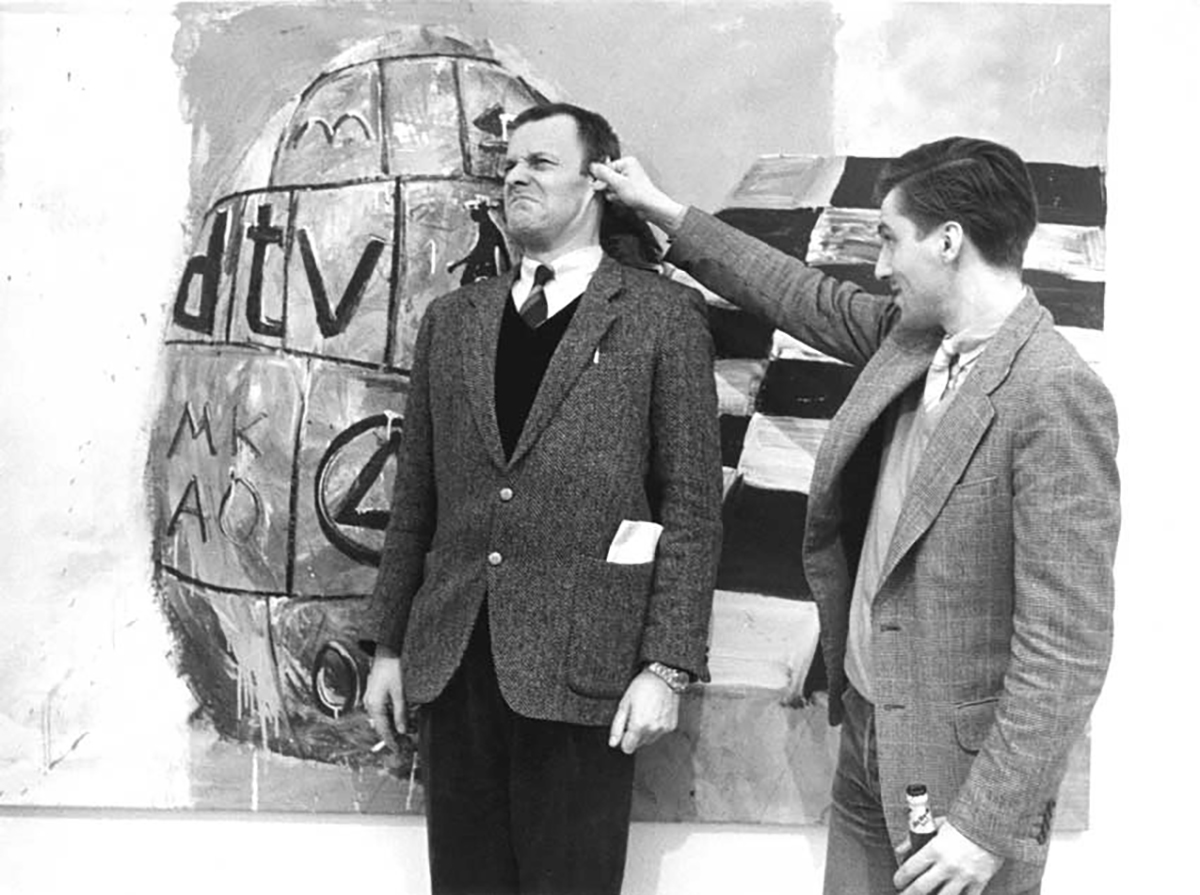 This young trio – the snot-nosed brats of neo-expressive painting – painted their arresting, large-format works with a spontaneous, expressive brushstroke, forceful and fast, with absolutely no aesthetic or stylistic intent. The result: a chaotic array of drippings, spatterings, and rivulets of paint in ebullient colors. The painting was unabashed and unpretentious, a rabid and rigorous, provocative and ironic response to the zeitgeist; deliberately dilettante-ish with no art-theoretical ambitions, celebrating nothing but the freedom of artistic execution.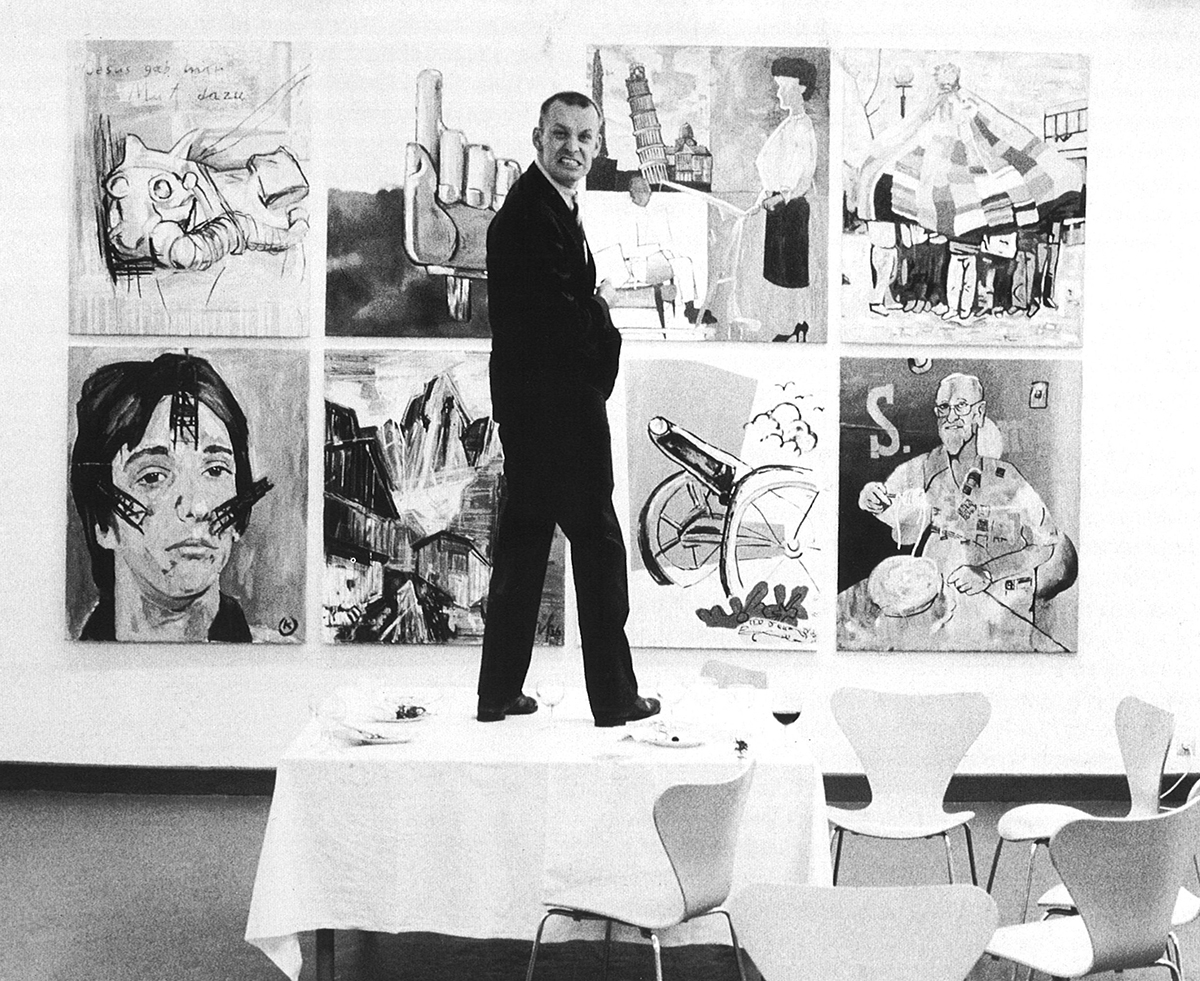 Their rebellious stance took its cue primarily from punk rock, which had originated in England and swept across the European music scene like an avalanche, aiding and abetting the no-future feeling, the kiss-my-ass attitude. The point of departure was NO to everything. They wanted something new but did not know what 'new' meant; what they did know, however, was that the status quo had to go.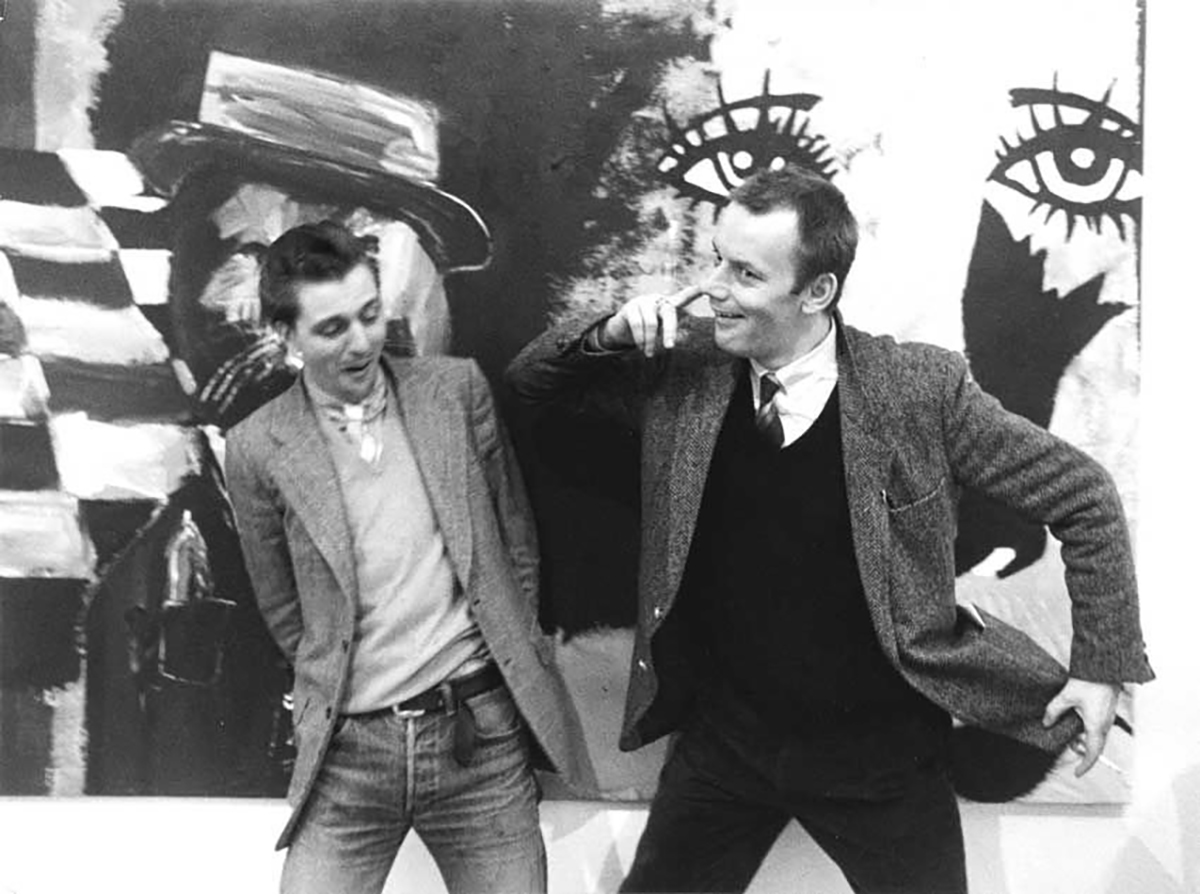 Art became a field of rampant experimentation and breakneck transgression of rigid boundaries. They painted utterly crazy pictures, ironic, witty, and funny, without affectation or exaggeration, conjuring trash culture and assiduously eschewing depth.
WERNER BÜTTNER – THE POET
An extremely effective and positively charming imagery distinguishes Werner Büttner's paintings. The clearly identifiable subject matter (the prime quality cheese, the endearingly woolly red sheep, the crisp pickles, the high-gloss balloon dog à la Jeff Koons flanked by palm trees) are painted in an almost cultivated, traditional style. Only the skewed proportions (match, cheese, pickles) and the nonsensical combinations (sheep balancing on a used match, naked Rococo putti in front of a larger-than-life pickle aquarium, head stuck through a hole in a slice of Emmental cheese) undermine the initial impression of an academic idyll.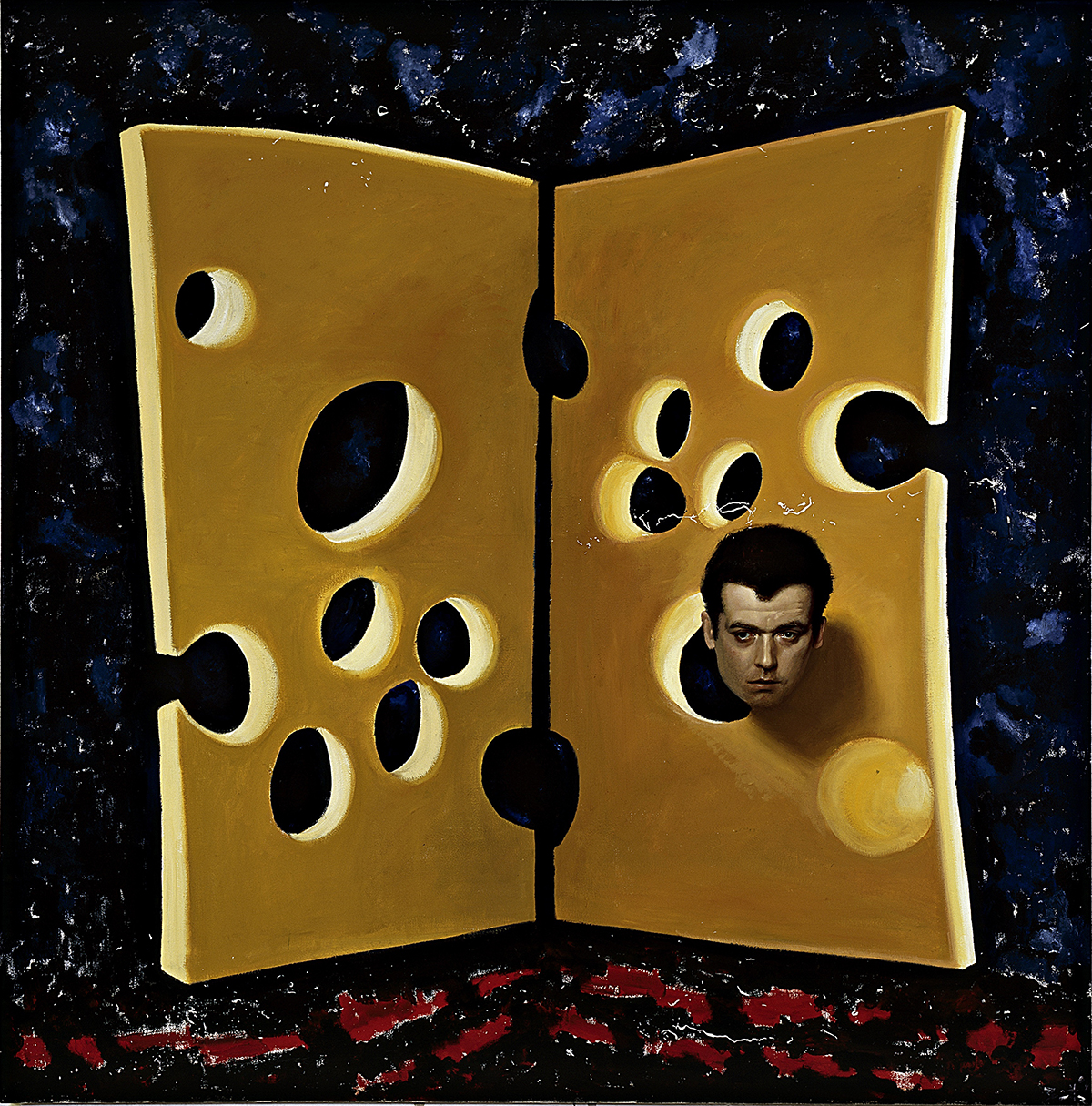 Büttner alienates himself, his pictures and ultimately his viewers from a pseudo-romantic world. His mundane objects, treated as if they were important and precious, are disconcerting; they arouse false expectations and are just plain funny, entirely in the spirit of the trio infernal thesis. The artist is playing an extremely sophisticated game between high and low: the profane world is reinforced and high art attenuated; boundaries - blurred and levelled – succumb to barefaced relativism.

MARTIN KIPPENBERGER - INVENTOR OF IMAGERY
Martin Kippenberger was not a partisan; he was not an avant-garde artist and most certainly not an aficionado of elite art. Headstrong, rebellious and unbridled, he was uncompromisingly vehement in his rejection of an artsy-fartsy art world. He sourced his work from advertisements, fashion and architecture magazines, art encyclopedias and the tabloids, in unbiased exploitation of contemporary image overkill. Taken out of context, the imagery is variously transformed and alienated. Spontaneous combinations, often larded with meaningless, comical sentences, yield new contexts that inform them with compromising, ridiculous, profound, and sentimental significance.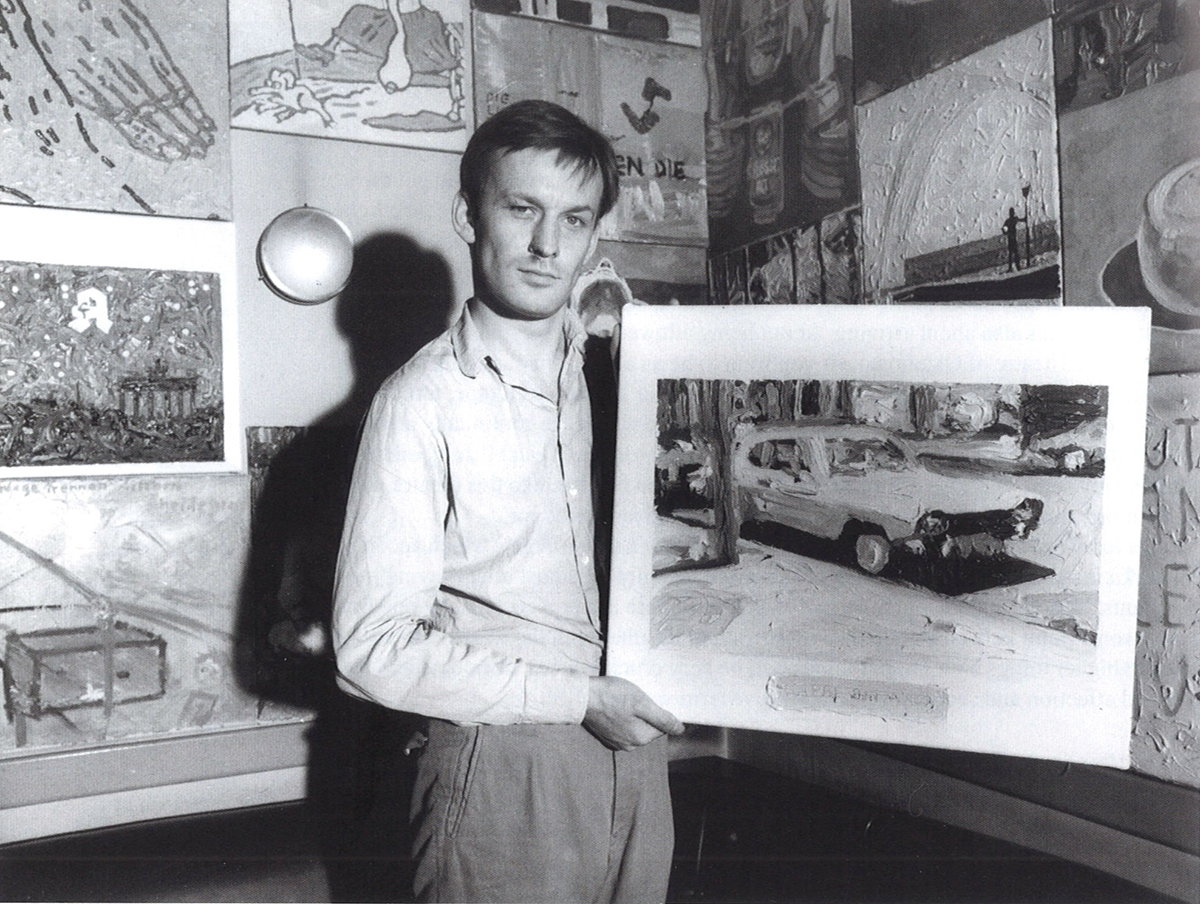 He whips out his magic wand and elevates the debris of civilization, the most mundane, insipid things he can find, to the heights of art. Brazen combinations and spontaneous associations thumb their noses at logic, producing paintings that are utterly devoid of meaning or intent. The arbitrary, purely coincidental juxtaposition of trivial and provocative motifs, finished off with curious, nonsensical titles, is fueled by Kippenberger's inimitable Dada-esque irony. His visual universe defies logical thought. These are different dimensions, different layers of consciousness, which can only be the product of a drunken stupor, dreams or abysmal depression.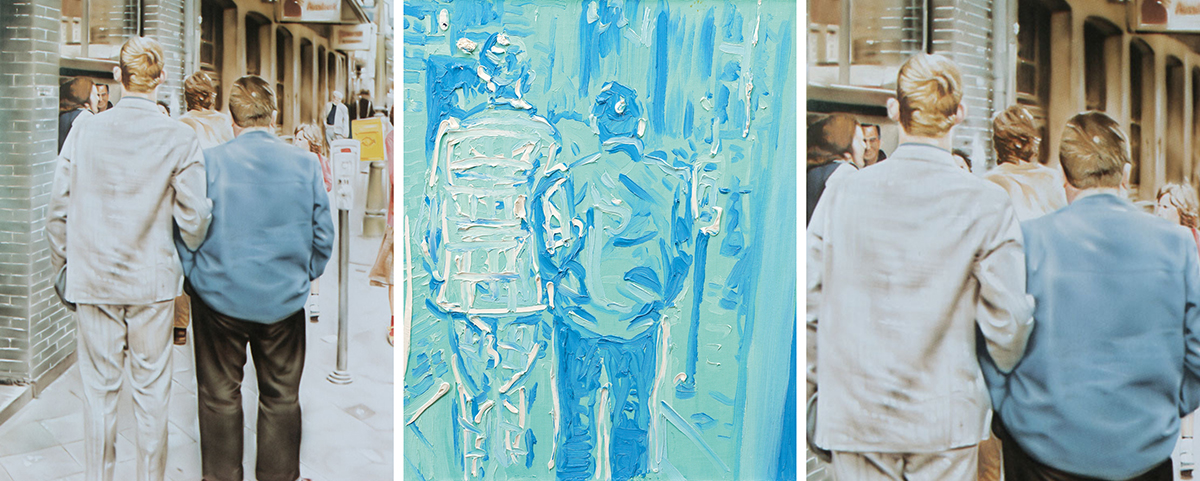 In the six-part series Witzig, witzig (1981), viewers encounter, among other things, drunks staggering to the nearest bar (Freizeit in Düsseldorf), ugly, vanilla-colored Nazi architecture (Kippermann als Neckermann in tunesischer Vanillesosse), a figure assuming a victory pose à la Arno Breker (Hurra, ich hab die Mittlere Reife) and Hitler, asked if he remembers a night in Naples.


Frühlingssalat (1981) is an art historical concoction in three parts. Eva Braun is posing in a daring gymnastic exercise on a flowery meadow at Königssee; Markus, reminiscent of Francisco de Zurbarán's lamb in Agnus Dei, is adrift in the streaming blood of a slaughterhouse; and Bloss keine Kapern is not all that removed from Georg Herold's caviar paintings.

In other works, Kippenberger takes the notion of aesthetic sensibility to extremes, for instance, by linking motifs of world famous artists of the past with kitsch and trash. The almost surreal painting Casa Magnetica in very veritas (1983) confronts viewers with a challenging alliance: billiard table, ceiling lamp, distorted perspective, pastose paint application, and the invoked 'Yellow of the South' – all elements of Vincent van Gogh's famous Night Café (1888) – intermingle with pictures of the Casa Magnetica, an amateurish, bourgeois attraction that presents optical illusions at the Phantasialand amusement park in Brühl near Cologne.

Martin Kippenberger fiercely cultivated his image as highly articulate joker, disrespectful bully, subversive self-promoter, and manic artist of everything. Study of his works reveals a surprisingly serious, obsessive painter, whose direct, positively wild application of paint and spontaneous composition – without introducing any additionally alienating ironic commentary – led to the creation of paintings that are as striking and compelling as is his cult of self-irony. Untitled (1984), one of a group of architectural paintings created between 1984 and 1986, eloquently illustrates this vehement style. The paintings, featuring square and rectangular buildings with slits, make coded, enigmatic reference to real, emotionally fraught architecture: a rehabilitation clinic in the United States (Betty Ford Center, California), which points to the tabloid-worthy alcoholism of an American First Lady (1974-1977); a penitentiary (the Stammheim Wing in Stuttgart), built especially for the solitary confinement of the most wanted terrorists of the RAF and thus conjuring up the German Autumn; and a Jewish primary school that harks back to the dark past of Nazi domination in Germany. In Untitled (1984), the entangled buildings of the Betty Ford clinic – painted in a cold, leaden grey – are pitted against an expressively painted landscape in the foreground and the garish yellow and red of an imaginary sunset in the background.

The marriage of punk and trash is particularly evident in the artist's sculptural oeuvre. As a member of the punk band Luxus, Kippenberger was seminally influenced by the radical music of overdriven guitar amps, fast tempos, and raw, unprocessed vocals. Trash gave him the inspiration for innovative combinations of high standards and cheap motifs. His message took the shape of fun and underground interwoven with political, philosophical, and nihilistic statements. The bronze sculpture on view here, New York von der Bronx aus gesehen (1985), parts company with vociferous provocation and leads a fascinatingly understated life. It is a cast of an ordinary plastic pen holder – painted in garish colors – that once graced every office and school desk in the 1970s. By placing the cast on an extra tall pedestal, the artist transforms a mundane practical object into the skyline of Manhattan. Anybody sitting at a drab desk or in a stuffy schoolroom can dream the dream of a great wide world. For Kippenberger, every single thing, no matter how silly, has a magic of its own.
ALBERT OEHLEN - MASTER PAINTER
Albert Oehlen is the painting 'savior,' particularly since he devotes great care to the craft in order to paint pictures that he considers 'good,' 'cogent,' 'right,' and 'beautiful.' His choice of material is traditional: canvas and mostly oil paint, which have been the basic gear of artists for well over 500 years. Oehlen is an honest painter who plies his trade without tricks, creating works that are not merely abstract creations but rather pictures with content, manifestoes of self-affirmation and self-empowerment. His striking paintings reference both old master motifs and those of modern and post-modern colleagues, but he does keep his distance when it comes to art historical references. These he often treats playfully, humorously, imaginatively, diluting them even more through an expressive brushstroke that hides the motifs or makes them vanish altogether somewhere in the space of the pictures, which occasionally show a touch of vulgarity or kitsch encroaching on the gravity of the paintings. The style of Oehlen's work covers considerable territory, from extremely academic to deliberately flawed due to the quick, spontaneous, and inept brushstroke. This collision of different styles – stormy and wild (low) versus traditional (high) – explicitly questions the genre, almost as if 'bad' and 'poor' painting were defying the style of 'high art.'

Das schwarze Haus (2000) is painted in broad, open or loose brushstrokes. A turbulent sea of strong reds, blues, and greens is paired with the flat application of lighter pastels. The colors work together, joining forces quite naturally to produce a bewildering whole that initially leaves viewers at a loss. There are no clues and the title, supposedly a key, is of no help either. This forceful, abstract painting with a figurative presence needs discovering, as in Willem de Kooning's works of the early 1950s. The flat, duplicated face with eyes wide open, is squeezed into the lower left of the composition, as if watching on the sidelines of a great tumult (see Willem de Kooning, Women series, c. 1948-1954). The title evokes the atmosphere of Black House, a novel by Stephen King and Peter Straub, presumably the most renowned writers of horror in the United States. The plot revolves around ex-cop Jack Sawyer, called upon to hunt down a serial killer in a remote, idyllic small town nestled in the woods of Wisconsin. At one point, the story takes readers to a curious structure hidden among the trees. This black house, a three-story, asymmetrical building long since abandoned, is like a menacing alien in the idyllic town. Oehlen renders the mystery of his motif with such intensity that viewers who are familiar with the story still get goose bumps.
© Essay: Georg Frei
© Editors: Xenia Gokhberg and Claudio Stefanutto
© Translation: Catherine Schelbert
Back